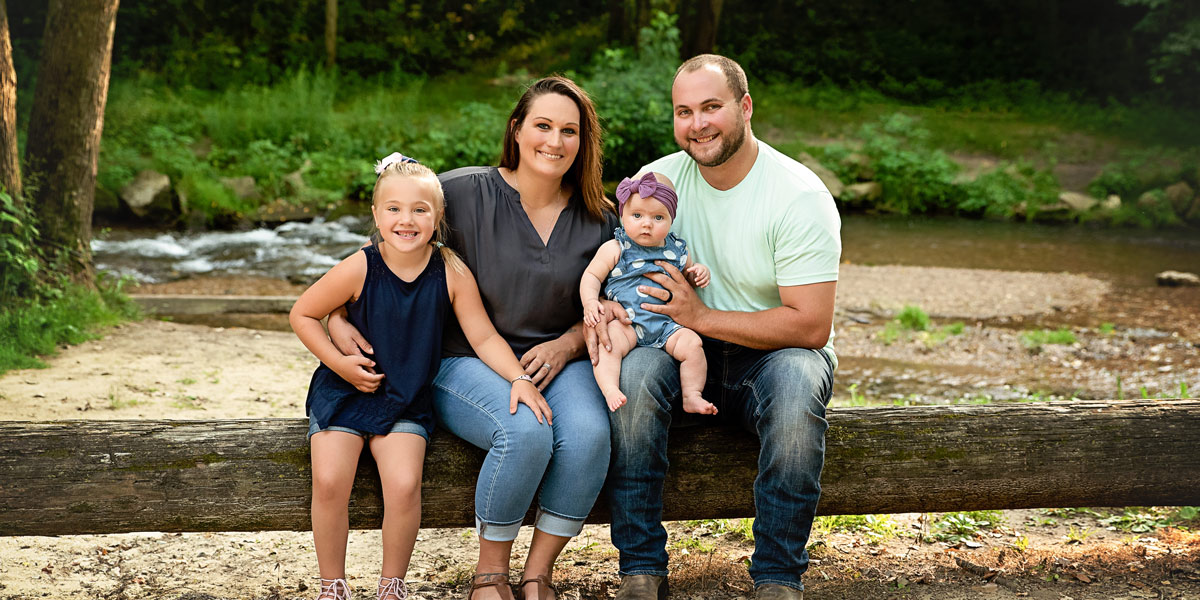 A free Dupaco Money Makeover gave members Chasta and Aaron Koopmann breathing room in their budget and hope to eventually grow their family, which includes daughters Georgia (left) and Karley. (Special Moments by Kayla photo)
Year delivers medical worries and lots of love
DELHI, Iowa—For Chasta and Aaron Koopmann, 2020 delivered medical worries, mounting bills and a seven-pound, one-ounce bundle of love.
It's also been a reminder that their financial cooperative is there for them, helping them navigate both the good and tough times.
Here's their story
Late last year, a routine prenatal ultrasound uncovered kidney issues for the Dupaco members' unborn baby. The findings meant that the Delhi couple needed to travel to Iowa City for their remaining prenatal appointments and their daughter's birth.
"There were so many unknowns, and the doctors couldn't tell us a whole lot until the baby was born," Chasta said.
Karley Koopmann entered the world earlier this year, joining her parents and big sister Georgia. The baby was instantly ushered away by her medical team. And she's had multiple procedures, regular monitoring and nearly daily antibiotics since then as a result of an enlarged kidney and duplicated kidney system.
The medical bills soared.
And the Koopmanns met their health insurance deductible three times in almost as many months, thanks to an end-of-year job change.
As they chipped away at the expenses, the couple turned to credit cards to pay for their groceries and other necessities. But the cards' high-interest rates prevented them from making progress on their balances.
"We weren't prepared for all of these extra costs," Chasta said. "It was a constant stress making sure everything was paid and knowing that there was nothing more I could put down than the minimum payments. The interest rates were killing us."
We're in the business of people helping people. Learn more >
Help from their cooperative
She reached out to her longtime credit union for help.
Dupaco's Marilu Gomez created a plan to consolidate the Koopmanns' credit card debt into a personal loan, using Aaron's vehicle as collateral. Instead of multiple payments, they make one monthly payment to their credit union—at a significantly lower interest rate.
"It was a relief to know that we won't have to keep living paycheck to paycheck. We'll be able to breathe a little better knowing we can pay everything off sooner," Chasta said.
And their credit union's plan offered them hope for their family's future.
"We want another child at some point. And being able to pay this off earlier will help us afford to have another baby sooner," Chasta said.
It's the latest way Dupaco has helped Chasta and her family over the years. She's turned to her credit union to save her first paychecks, buy her first car, purchase (and remodel) her first home and much more.
Chasta talked Aaron into joining when he grew tired of being charged to access his money at his previous financial institution.
"I've always preferred Dupaco because I've had great experiences over the years," Chasta said. "So I try to get my friends and family to switch so they can save money too."