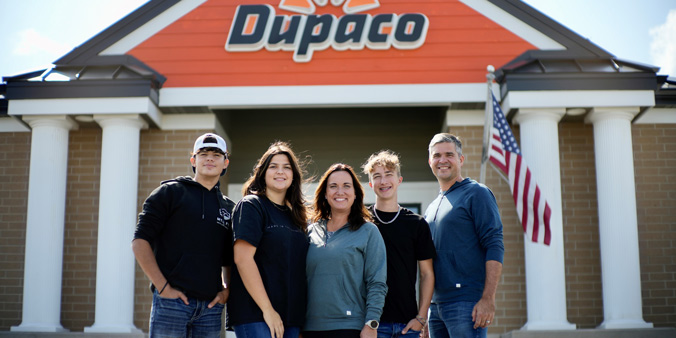 One family's journey toward financial wellness
LAKE DELHI, Iowa—Dupaco members Alissa and Chad Gardner are passionate about financial well-being—and helping those around them live financially well too.
They want to save others from the money mistakes they made as young adults.
"My first week as a new college student, I filled out five applications for credit cards to get a free T-shirt. I didn't know any different," Alissa recalled.
Whether they're coaching first-time homebuyers on credit and saving or bringing financial education programs to their children's classrooms, the Gardners are inspired to share what they've learned.
"It just comes out of us," Alissa said. "And it has poured over into teaching our kids too."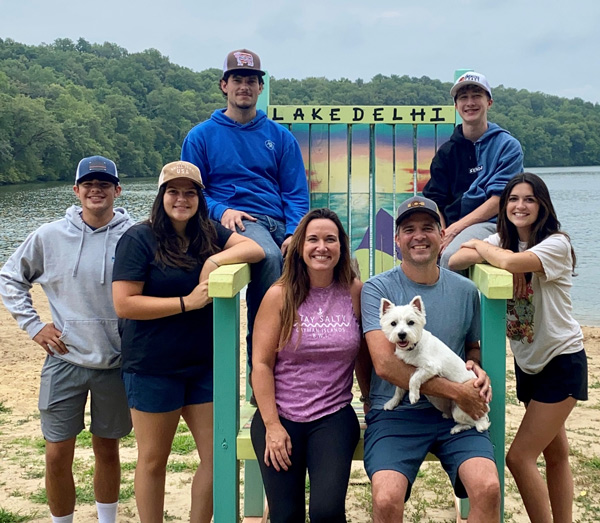 Getting down to business with money lessons
The blended family of seven is entrepreneurial at heart. And owning several businesses over the years has helped their kids learn, from an early age, how to be good stewards and manage money wisely.
The parents have always found opportunities to include their children in their business endeavors, including everything from real estate to farming.
When the couple owned a real estate company, the kids put up yard signs. When the family hosted Airbnb camping guests on their farm, the kids welcomed visitors, split firewood and set up tents. And when a business needed help with less exciting tasks, the kids stamped envelopes and tackled other odds and ends.
"Their entire lives, we've been self-employed. The kids have never known anything different," Alissa said. "We don't always pay them because you don't get paid for everything as part of a family. But we also like to demonstrate generosity in our businesses and for the people who work for us. And that includes our kids."
Are you a business owner? Explore our free Business Resource Center >
Finding a financial wellness partner in their credit union
These experiences have helped the couple's children learn lifelong social and money skills—and inspired them to save money and start businesses for lawnmowing, auto detailing and more.
When 14-year-old Tristan opened a Dupaco account for his business, Alissa was grateful for the one-on-one financial education her son received.
"He didn't treat Tristan like a little kid. My kids rise to the occasion when adults treat them like he did," Alissa said. "It was a partnership. And I was appreciative that he took the time to do that."
Tristan also recently got his first debit card. And he broke in his Dupaco Money Card by treating his brother and himself to a pizza.
It wasn't just any pizza, though. Three of the family members work at The Pizza Place in Lake Delhi. It's allowed the family to get to know the people in their new community. The Gardners recently moved their family to the lake community to start their next chapter.
"We're called to be here right now and love our neighbors," Alissa said. "We're just seeing what God has for us here."