Great Credit Race: How will it finish?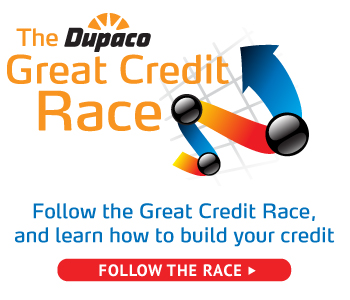 As racers near the Great Credit Race finish line, the battle to build solid credit remains a three-way tie.
Anna O., Kiernan S. and Brett B. have long been leading the race, now tied with credit scores of 705.
Four Dupaco race coaches have been guiding the competitors for the past five-plus months—and they're ready to watch someone break away for the win.
"I really don't want it to be a three-way tie," says race coach Marina Henriksen. "I would like to see someone jump ahead."
With the race nearly over, the coaches share what they've gleaned from the competition so far.
Biggest surprises
Apart from a few racers who have experienced big gains or drops, most credit scores haven't moved significantly, says race coach Amanda Durham.
"I thought there would be more changes," she says.
Race coach Ben Strautmann agrees.
"Toward the beginning of the race, I was surprised how quickly you really can go from 0 to 700," he says. "It doesn't take much to get out there, but after that you have to be purposeful about how you're using your credit to move forward from there."
Race coach Tonya McGlaughlin had predicted that an installment loan would be a game-changing play for one of her racers. While Dupaco's Credit Coach Loan will pay off for her racer in the long run—and help her get approved for a personal loan—it has not given her a leading edge during the race.
"Even though she's done everything right and has done a great job keeping her credit card balance super low, it's keeping her score down by having those two lines of credit out there," she says.
The strategy that's paid off
So, what's been the secret credit-building sauce?
The leading racers are using their Dupaco Platinum Visa credit cards for small purchases and paying off their balances immediately—not even waiting for their statements to arrive.
"With all my racers, I emphasize paying your balance off even before it hits your statement so you don't leave room for a balance to sit on your card when it's reported," Strautmann says. "My racer who is doing the best has done exactly that."
… And the strategies that haven't
Racers have fared better by keeping things simple with a single credit card.
One of Durham's racers opened a Credit Coach Loan, while another took out a personal loan.
"I was really hoping those two loans would have given them the extra piece of the pie with more payment history, and it did not," Durham says. "My two racers who don't have that extra piece are higher on the leader board."
For Henriksen, it has come down to communication. Those racers who have been willing to heed the credit-building advice of their coaches have fared better, she says.
"I think the people who really want the help and want to know and grow are going to ask the questions to make sure they are doing things right," she says.
Finish line predictions
McGlaughlin is hoping to change the momentum of the race by having her racers take a new approach.
"We've established payment history and kept their balances low," she says. "But I've told them at this point to leave your card alone and leave it paid off and see if that will be the nice boost to get them there."
Another factor that could impact racers at the very end: student loans will begin showing up on some racers' credit reports.
"That's probably going to separate the racers," Strautmann says.