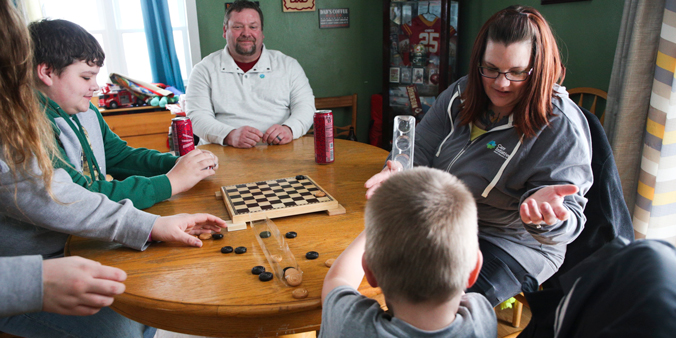 Dupaco members Michael and Jen Graham play a game with their three children at their home in Villisca, Iowa. (A. Mehl photo)
How to save for your hopes and dreams
What are your hopes and dreams?
Maybe you'd like to buy a new car. Renovate your home. Or go back to school to get your dream job.
Naming your dreams—and saving for them—can help you reach your goals.
Here's why: You begin to visualize what you're working toward. Having that visualization can motivate you to keep saving and protect your hard-earned money for its intended purpose.
And saving automatically and systematically makes it even easier to pay yourself first, letting the savings tools do the work for you.
Whether you have leftover stimulus money to help you start saving today or you need to put your goals on hold for now, know that several tools can help you reach your hopes and dreams when you're ready:
Tools to help you reach your hopes and dreams
You-Name-It Savings accounts
Create as many separate savings accounts as you'd like—for expenses, projects, purchases, you name it!
You can open the accounts within Shine Online and Mobile Banking.
Savings Goal
Use Savings Goal to create a customized plan to reach your goals.
Set up the feature in Shine, and create as many as you want. Name your goal amount and completion date, and Savings Goal will calculate a plan to reach it, using a new or existing You-Name-It Savings account.
Holiday Club
Save year-round for holiday gift purchases, and receive your funds in time for holiday spending.
In 2019, Dupaco members saved $5.2 million in their Holiday Club accounts. That's an average of $1,003 per participating member!
Launchpad
This retirement savings account can help you prepare to open an Individual Retirement Account.
Start small, opening a Launchpad account with as little as $5. Once you've saved $1,000, you can transition to an IRA.
Direct deposit
Pay yourself first. Send a portion of your paycheck directly to your savings accounts before you even see the money.
Automatic transfers
Another option: Set up automatic transfers between your checking account and savings accounts.