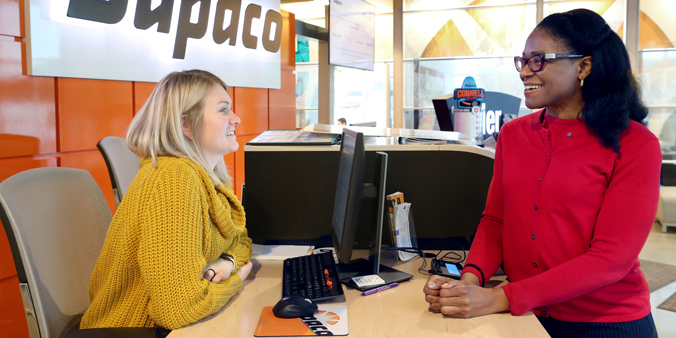 Member ReShonda Young, of Waterloo, Iowa, visits with Dupaco's Chloe Brown at the Mullan branch in Waterloo, Iowa. (B. Pollock photo)
Member: Thank Use shows that Dupaco cares
WATERLOO, Iowa—Shortly after joining Dupaco Community Credit Union, ReShonda Young started hearing talk of Thank Use.
In the beginning, the Waterloo woman shrugged it off.
"It wasn't clicking with me at first, because no other financial institution I've worked with offered something like this," Young said.
But then it hit her: The more she participated in her credit union, the more Thank Use she could earn.
"Once I started to dig into it further, I thought, this is amazing," she said. "The Thank Use program shows Dupaco really cares about its members."
In 2019, Young was among 58,665 Dupaco members who collected more than $3.6 million in Thank Use dividends. By using Dupaco's services, eligible members shared in their financial cooperative's success.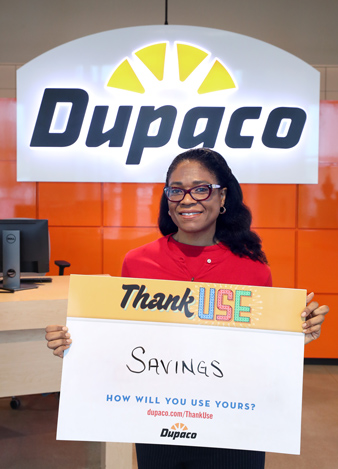 New opportunities
Young made it her mission to try Thank Use-eligible services that she wasn't yet using. Not only did it earn her more than $80 in Thank Use during her first year of membership, but it helped her boost her financial well-being.
Getting an auto loan was a smooth and fast process. Young also made purchases quickly with her Dupaco MoneyCard.
When she started using Shine Online and Mobile Banking more, she saved time and gas by making mobile deposits. And Bright Track helped her watch her credit score climb after a lesson on credit cards.
"I was totally opposed to using credit cards before," she said. "I was excited to see that a simple credit card that's not costing me anything could help boost my score even more."
Most recently, Young switched to Dupaco Insurance Services, saving her more than $200 a year in auto insurance premiums.
New year, new goal
In 2020, Young hopes to earn at least $100 in Thank Use. She'll encourage her friends to earn more, too.
Find out how you can earn Thank Use in 2020
It was, after all, one of Young's friends who told her to check out Dupaco when she grew frustrated with her previous financial institution.
"My friend said, 'You'll be surprised by how much easier they are to work with,' and I really was," Young said. "Everybody is so helpful."