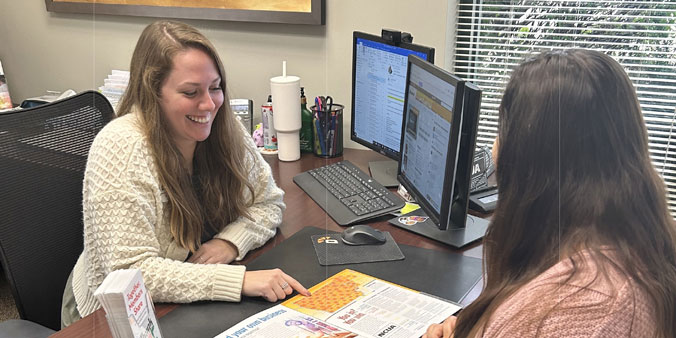 Meet your #DupacoCrew: Finding joy through helping people
By Vanessa Walters | Member service representative
GALENA, Ill.—It's interesting how life takes you in different directions.
All through college, I wanted to go into medicinal research. With science, it's black and white. It's this, or it's that.
I'm an introvert, and I knew I wanted to help in the background in a lab.
But when I was home on break in college, my mom got me an application to work at a restaurant in Galena. I'd come home feeling exhausted but fulfilled carrying trays and talking to people. It felt so right. And I loved it.
I got my degree in medicinal chemistry. And when I went back for my master's, I looked around the chemistry labs and realized I didn't enjoy it as much as I thought I did. I missed serving people in public, hearing their stories, sharing my stories and having that human connection.
And I wondered, why am I pushing so hard for something that doesn't feel right anymore?
The more I helped … 
I decided to go into real estate, but I needed another job to compensate.
That's where Dupaco came in.
I was already a member and saw they had an open teller position in Galena. I jumped on it, and I'm really happy about that decision.
The more I helped people on the teller line and learned from my coworkers, the more I wanted to do here at Dupaco. For me, that meant transitioning to a member service representative role. The more help I can give our members, the better I feel about what I do and my choice to work here.
I love having the opportunity to help members get closer to their financial goals.
When I was younger, I didn't know enough about my credit and how credit cards worked. I wish someone would have pulled me aside to help me. I learned from my mistakes, and I want to be that advocate for our members. So I share tips and tricks with them that I didn't know.
It's that educational aspect that drew me to Dupaco. We don't paint black-and-white pictures. We customize solutions for our members.
And it fills me with pride and joy to know that I'm genuinely helping the people in my community.