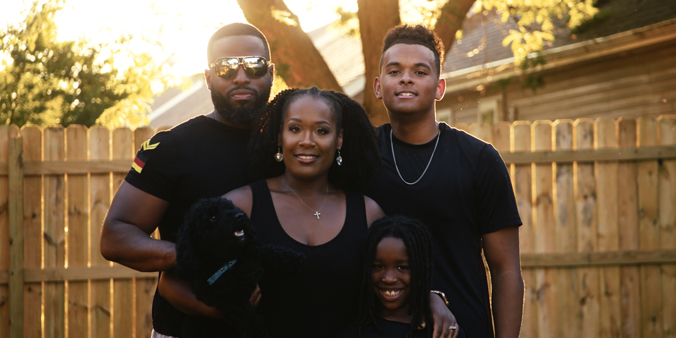 Leroy and Brittany Sisk and their sons Jaiden (back) and Dru enjoy spending time in their newly enclosed backyard. (DreamCatcher photo)
Day care provider says her credit union wants their members to succeed
WATERLOO, Iowa—Brittany Sisk was the babysitter of the family. And she knew early on that she wanted to make a career out of working with kids.
"I prefer little people over big people," she said, laughing.
After working in a few day care centers and schools, Brittany opened an in-home day care. And she's loved getting to know the kiddos—and their unique personalities—over the years.
"There's never a dull moment. No day is ever the same," she said. "You have to go with the flow and roll with the punches. And I love it."
Growing their dreams
Brittany runs her day care out of her Waterloo home, where her family has lived for the past decade.
It's where Brittany and her husband, Leroy, welcomed their youngest son and became a family of four. They brought home Bentley, their 5-year-old miniature poodle. And Brittany brought her day care vision to life.
As their family has grown and their dreams have evolved, the Sisks wanted their home to better reflect their lives today.
The Sisks talked about adding a privacy fence to their backyard. They wanted that extra level of protection to help keep their family, day care family and dog safe.
They also dreamed of making updates inside their home to support the day care and their family business, Fit Foods. Each week, Brittany, Leroy and their oldest son prepare and cook individual healthy meals for their customers' week ahead.
"It's something I decided to start when I wanted to focus on living a healthier lifestyle and helping the community because several people are facing diabetes, high blood pressure and obesity," she said. "It's been good to have a little family business."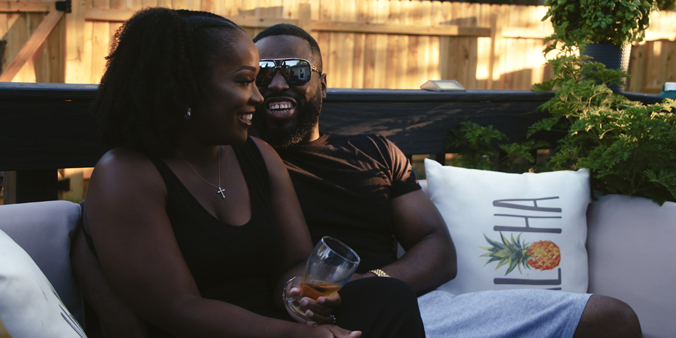 Supporting their dreams
When the Sisks shared their goals with their credit union, they received some surprising news. Not only were their dreams within reach, but they could save money too.
Dupaco Community Credit Union's Amanda Clark showed the Sisks how refinancing their home loan would save them thousands in interest and cut five years off their payments.
And because they'd built equity in their home over the years, they could borrow against it to make the updates around their house.
"We were overjoyed that we could take advantage of it," Sisk said. "And that there is another example that Dupaco Credit Union has had our back."
The Sisks had their fence installed this summer. And they've enjoyed spending time in their revamped outdoor space.
"It's all about safety for me," Leroy said. "The privacy fence provides safety for our kids and the day care kids. And it makes me feel more comfortable."
For Brittany, their yard feels more spacious. And it comes with some newfound freedom.
"It's a nice feeling just letting my daycare just get out and run free—same with the kids, same with the dog," she said. "They're just able to run free. And it's nice."
'They want to see their members succeed'
The Sisks joined Dupaco about four years ago.
Brittany said they were ready for a change and had heard a lot about the perks of a Dupaco membership.
"I knew instantly when moving to Dupaco that they were a lot more helpful and had more benefits," she said. "I think Dupaco Credit Union actually cares. They want to see their members succeed. They want to give them financial freedom. And they're doing that with their members."