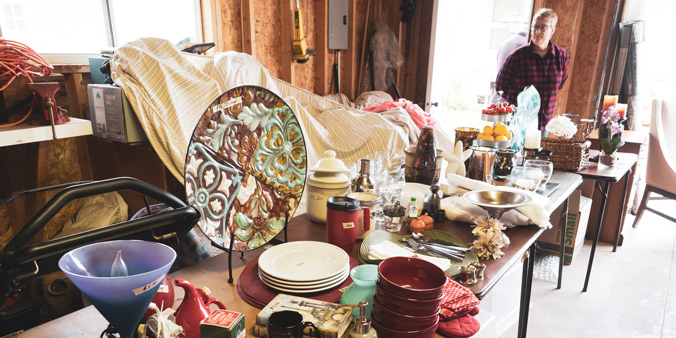 Jan Herrington sells items at her home during the Dupaco Community-Wide Garage Sales on May 11, 2019, in Cedar Rapids, Iowa. (B. Kaplan photo)
How to host a successful garage sale
Spring is in the air, and so is garage sale season!
If you're in declutter mode at your home, consider turning your unused stuff into extra money by hosting a garage sale.
Make your garage sale stand out
Dupaco's Kellie Cook says these tips can help you make your sale stand out—and potentially earn you more cash:
|1| Advertise, then advertise some more.
You can't have too many signs directing shoppers to your home. Remember, some shoppers rely solely on signs to find the sales.
"There are probably two or three ways to get to your house, so make sure your sale is well marked," Cook said.
Consider publicizing your sale on Facebook as well. Just make sure you're clear about when your event begins.
|2| Give every item a price.
Rather than use a color-coded system to denote prices, take the time to put a price sticker on every item. The exception: If you have a box of DVDs or books that are all the same price, make a visible sign that clearly communicates that.
"Sometimes people use pricing systems that get too complicated," Cook said. "Using masking tape and a Sharpie marker to price everything is the best way to go. You want the prices to be easy for people to find."
Learn how to price your garage sale items
|3| Make yourself available.
Avoid reading a book or visiting with a friend throughout your sale. Instead, greet shoppers and make them feel comfortable.
"Ask if they're looking for something special," Cook said. "You want to try to interact with your customers."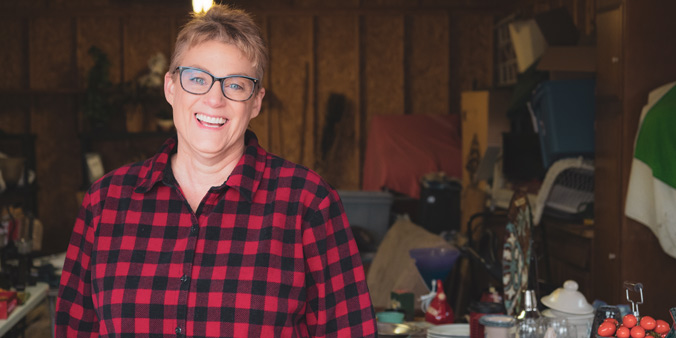 |4| Have bags on hand.
While some shoppers will buy one or two items, others might hit the jackpot at your sale—and need a way to get their purchases home.
Keep some bags at your check-out table for those times.
"That's one thing I didn't think of when I had my first sale," Cook said.
|5| Give your sale curb appeal.
Attract drive-by shoppers by placing some of your best items toward the end of your driveway.
Another idea: Create a table for the guys near the street. Then they have something to look at while their significant other checks out the rest of your wares.
"I try to keep as much of my sale outside instead of in the garage. It's more open that way," Cook said.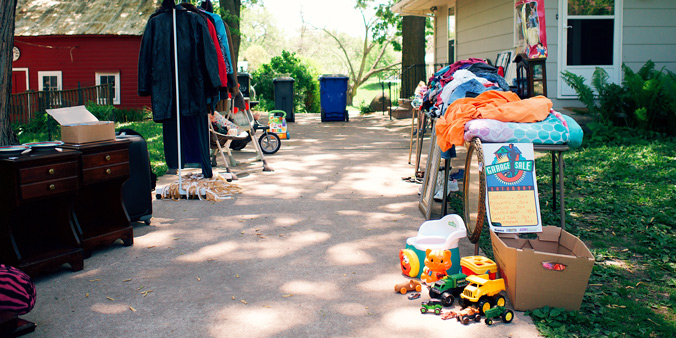 |6| Have cold drinks available.
If it's a hot day, consider having cold drinks on hand for shoppers to purchase. Advertise your beverage selection with a sign that's visible to drive-by shoppers.
"That could draw people in, too," Cook said. "They might come to your sale just to buy a bottle of water and end up buying something else as well."