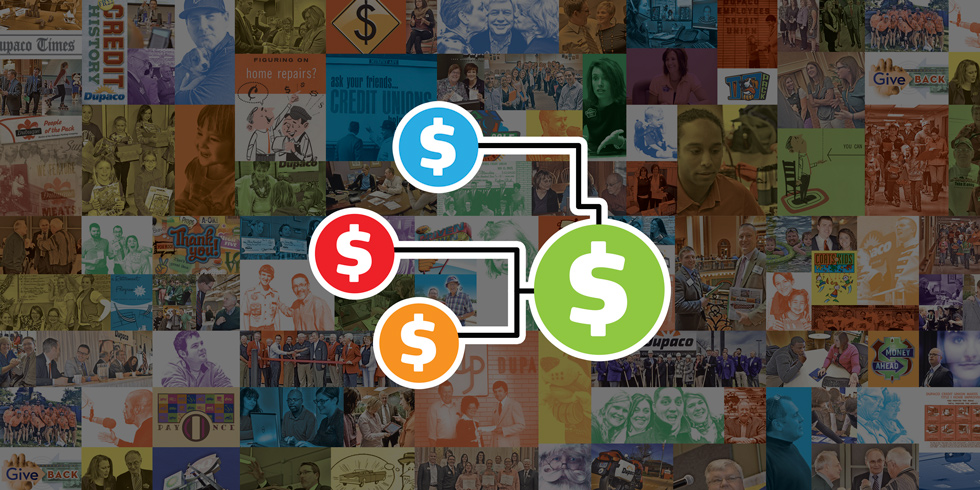 9 tips to help you host a successful clothing swap party
What if you could rejuvenate your wardrobe without spending a dime? A clothing swap party allows you and your friends to trade clothes, shoes, jewelry and other accessories.
It's an opportunity to free your closet of the pieces that no longer work for you—and try new ones for free.
"You're repurposing clothes but also not spending any money," said Dupaco Community Credit Union's Erin Engler.
Budget basics
When you must buy clothes, a shopping budget can help you stay on track with your spending, Engler said.
Evaluate your clothing needs, and determine how much you can realistically set aside for those purchases. Consider using a You-Name-It Savings account to automatically save for your wardrobe with every paycheck.
"That way, when you go shopping, you have the money there and don't have to turn to credit cards or pull from other accounts," Engler said.
As a credit union, Dupaco is all about thrift—teaching people how to save more and spend less.
"The whole idea of thrift is making sure you're planning ahead for those unexpected events in life and planning ahead for goals like purchasing a home or a car or higher education," Engler said.
Clothing swap party basics
A clothing swap party is a perfect way to hone your thriftiness.
Follow these tips to get the most out of a swap:
Include friends of all sizes
When Laura Red Eagle, of Madison, Wis., hosts her annual clothing swap party, about 15 women of different shapes and sizes show up. A variety helps ensure everyone finds something to take home.
Send the invites early
Give your guests plenty of time to go through their closets and drawers to find pieces—clothing and other accessories—they'd like to part with. An early invite also prevents guests from prematurely donating items while decluttering.
Only quality items will do
"If you wouldn't want it because it has a stain or big tear in it, no one else is going to want it either," Red Eagle said.
Create a game plan
Decide how you want your swap to work. Do you want to recreate the feeling of a store, where the items are displayed around the room and guests "shop" the merchandise?
Another option: the host holds up each item for everyone to see. Each piece goes to the first person who expresses interest.
"I find it goes faster," Red Eagle said. "It's nice to be shown clothes for a couple of hours, relax and visit."
Encourage guests to wear tank tops
It's easier to try on items you're contemplating taking home, Red Eagle said.
Provide mirrors
Guests will inevitably want to try on clothes, so make sure you have some full-length mirrors on hand. Remember to have enough seating available too.
Don't forget the food
Trying on clothes can work up an appetite! To make hosting easier on yourself, you can ask your friends to bring their own beverage or a snack to share.
Give the leftover clothes a home
Not all of the clothes will go home with a guest. Consider selling the leftovers at a garage sale, Engler suggested.
"You're still getting a little money back for those clothes, and somebody else is taking advantage of getting clothes at a much cheaper price," Engler said.
Or, you can donate the leftovers to the hostess' favorite thrift store for a tax write-off.
Have fun with it
"The funny thing is that sometimes the clothing comes back around from year to year if it's a unique item," Red Eagle said. "There is an elaborately beaded Christmas sweater and shirt set that is on its third round. And it will be up for grabs at the next swap."