Dupaco explores ways to help first-time homebuyers save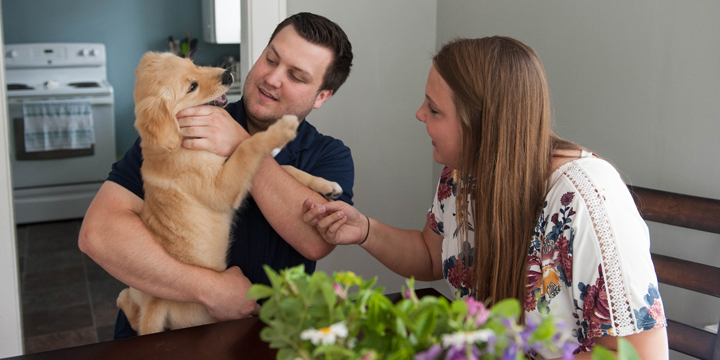 Dupaco members Tom and Rebecca (Wolter) Ameche settle into their first home with a new addition to the family—a golden retriever named Hank. With the help of their credit union, the couple purchased their Dubuque, Iowa, home a few months before their wedding day. (M. Blondin/Dupaco photo)
With their wedding on the horizon, college sweethearts Rebecca Wolter and Tom Ameche hoped to find a house to call their own before the big day.
They turned to Wolter's longtime credit union, Dupaco, for help—and found guidance and unexpected savings at every turn.
"As first-time homebuyers, it was hard to know what to expect," Wolter said. "No matter who we talked to, everyone was willing to help and get us the best answer they could in a timely manner."
Dupaco helped the couple merge their finances, showed them how to automatically save for holidays and trips they take together, taught them how to continue building their credit and guided them through the homebuying journey. After looking at a handful of houses, the Loras College graduates found the perfect one for them in a neighborhood they knew well.
"It's right by Loras College. I guess we can't get away from it," Ameche said.
Dupaco's Krystal Frederick knew how important every bit of savings would be for the young couple getting started. And while the couple didn't qualify for some income-based grants, Frederick found other savings for the couple, who bought their house in April:
$1,000 first-time homebuyer grant through the Dupaco R.W. Hoefer Foundation.
$600 off closing costs through a Dupaco promotion*.
80/15 loan, allowing the couple to take out two home loans to avoid paying Private Mortgage Insurance. The first loan was for 80% of the home's value, the second at 15%. By piggybacking the loans, the couple saves $160 in monthly PMI payments, Frederick said.
Check out these first-time homebuyer grants

"It was a great surprise to hear about the first-time homebuyer grant and be able to qualify for it," Wolter said.
The savings has freed up the couple's budget to tackle some projects. So far, they've painted most rooms in their three-bedroom house, and they plan to eventually do some work in their kitchen.
"Right now, I don't mind doing housework, because it's my own home," Ameche said. "It's nice to be able to feel like you're accomplishing little goals to make the house more of our own."
Since merging their money, Wolter and Ameche have gotten into a weekly habit of touching base on their finances. They regularly use Dupaco's Shine Mobile Banking app and Bright Track credit monitoring to keep tabs on their money and credit.
Learn how to marry your finances >
"We want to make sure we're on the same page," Wolter said. "We're used to having our own money. It's been an adjustment, but it's been helpful to sit down and talk about it each week."
Their budget now includes another expense, with the addition of a new resident in their house—a golden retriever named Hank.
"I've always wanted a dog of my own," Ameche said. "I didn't wait too long."
*This offer is good through Aug. 31, 2018, and applies to Real Estate applications taken by the credit union from March 1, 2018, through and including Aug. 31, 2018, resulting in an approved and disbursed real estate loan at the credit union. This offer is not transferable and may not be used in conjunction with any other discounts, offers or coupons and may not be redeemed in cash. This offer requires Dupaco membership. To be eligible for membership at Dupaco, you must live or work in Dupaco's charter area or have a member of your immediate family be an existing member of the credit union. Commercial loans, Mini Mortgages and Home Equity Loans are excluded from the offer.