Looking to save some green? Think about going green.
As we commemorate Earth Day, it's a good time to think about sustainability in all facets of our lives.
"It is important for us as individuals and as a community to practice living sustainably, because what we choose to do now without a doubt impacts our future," says Marina Henriksen, a member service representative at Dupaco's Walmart branch in Waterloo, Iowa. "There are ways we can all make a difference no matter how small."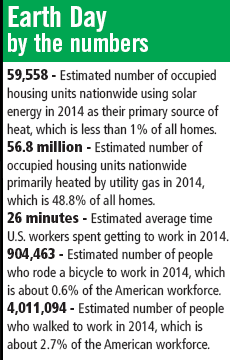 Every little effort adds up, helping sustain both our planet and our budget. By implementing daily practices like these, Henriksen says, we can work toward a brighter future:
Carpool to reduce air pollution and save trips to the gas station.
Pack lunches in reusable containers to further scale back on time spent in the car. Lunches from home cost less too.
Turn off lights that aren't being used to lower both energy usage and utility bills.
Use reusable bottles in lieu of plastic water bottles.
Repurpose old objects. "With the growing DIY trend, this is a fun and great way to stay thrifty and cut down on pollution caused by the mass production of products," Henriksen says.
Plant a garden at home. "It's a great opportunity to lower grocery costs and cut down on shipping and energy costs it takes to distribute goods to local grocery stores," Henriksen says.
Take advantage of your credit union's environmentally conscious products, such as Dupaco's eStatements and eNotifier Alerts. "When our members opt to go paperless, it not only improves the environment, but allows Dupaco to be more readily involved in the communities we serve and put funds back into the pockets of our members with improved products and services," Henriksen says.
Want to discover other ways you can go green and save green? A free Dupaco Money Makeover can highlight areas where you can save money within a specialized budget that fits your earth-conscious needs and lifestyle, Henriksen says.
By Emily Kittle