Checking Accounts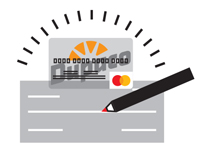 Dupaco has free checking and a dividend-bearing checking account. The bigger deal is that, no matter where you are in the world, you're never far away from fee-free access to your money, with Dupaco's mobile app and over 5,000 shared branches nationwide.
And by using direct deposit, you can skip a trip to the branch by directly depositing your paycheck, pension, or benefit payments to your checking account. You'll need Dupaco's Routing Number, 273974581, to set up direct deposit.

When you open a checking account at Dupaco, you can get a free optional MoneyCard debit card. Beginning in March of 2017, Dupaco will begin issuing EMV chip cards to offer our members better fraud protection. To learn more, check out our EMV debit card FAQs.

ClickSwitch for a quicker checking account switch
ClickSwitch allows you to move your recurring payments from a non-Dupaco checking to your Dupaco checking online. Contact Dupaco to see how. It's quick. It's easy!
Overdraft protection
Mistakes happen. Maybe you forgot about a withdrawal that you made or accidentally swiped your debit card when you meant to use your credit card. Suddenly there's not enough money in your checking account to cover a purchase or check payment. When that "oops!" moment happens, we have you covered.
There are two ways we help cover your payments or purchases:
We'll automatically transfer funds between your accounts to cover the shortfall if you link your checking account to another Dupaco account (like a savings account).
We'll temporarily cover the difference for you through our Overdraft Privilege program.

Save