BestFest

An annual benefit event for Hospice of Dubuque which recognizes the area's best products, services, food, and entertainment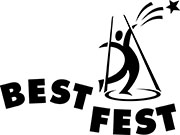 The voting period for Dubuque's best businesses ended at 5 p.m. on January 27, 2017.
Winners will be honored at BestFest on Thursday, March 23 at the Grand River Center. Tickets at both Dupaco and Hospice of Dubuque have been SOLD OUT. All event proceeds benefit Hospice of Dubuque, which provides compassionate care for the terminally ill and their loved ones.
You've got another chance to get tickets to BestFest! Place your bid to take the Bud Bus to BestFest this year. The highest bid claims this prize package:

12 Admission tickets to BestFest with round-trip transportation to and from the Grand River Center, Dubuque. Includes early admission to the event and reserved seating!
12 Full-Service Car Washes from Miracle Car Wash
12 - 12 packs of Coke from Coca Cola and promotional products from 7G Distributing
12 Adult Admissions to the Mississippi River Museum
12 Movie Passes to Mindframe Theaters
12 Grand Harbor Waterpark passes
Place your bid below. Auction ends at 8:00 p.m. CT on Friday, February 24, so watch this page to make sure your bid remains the highest in order to win!