Scholarships
Warren A. Morrow Memorial Scholarship Program
Awarded annually by the Iowa Credit Union Foundation, the Morrow Memorial Scholarship is open to any Dupaco member who meets the scholarship's eligibility requirements. The application process closed on February 11, and winners will be announced in April. Learn more about this scholarship.
Dupaco R.W. Hoefer Foundation College
Scholarship Program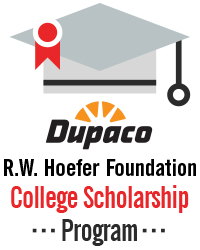 This year, the Dupaco R.W. Hoefer Foundation College Scholarship Program is awarding up to ten $2,000 nonrenewable college scholarships to full-time, first-year students planning to attend an accredited community college, trade school, technical college or university. The scholarships are funded by (member contributions to) the R.W. Hoefer Foundation. A minimum of two scholarships will be awarded to qualified students planning to attend a community, trade, or technical college.
Scholarship applications are judged on scholastic standing, extracurricular activities, financial need, and a creative piece. There are two options on the creative piece; applicants may only choose one:
Written essay: Entrants must submit an original, typed, 500-word essay addressing the following question:
"National Student Loan Debt in the United States: $1.465 Trillion*
Dupaco recognizes that student debt is a major issue in America and will likely become one of the largest financial obligations of a student's life, impacting future choices, such as buying a home or starting a family. In overcoming financial obstacles, we aim to improve our members' financial position and build valued relationships by delivering personalized financial advice, products and service. What are some steps that you can take to lessen the amount of student loan debt that you will owe?"
*Student Loan Debt Clock as of 3:30 p.m. CST, December 16, 2016.
Creative video: Entrants must submit a 60- to 90- second in length, original video centralizing on the following topic:
"Pick your favorite Dupaco Money Clips video and illustrate how it may help you to keep your financial stuff together as you prepare for college."
The application process closed on March 31, 2017 for judging. Winners will be notified and announced by May 5, 2017.


Like us on Facebook to stay up to date on the latest scholarship announcements as they become available!
---
Additional financing options for education
To assist with education financing, Dupaco offers student loan options to help cover the gap left by grants and federal student aid.