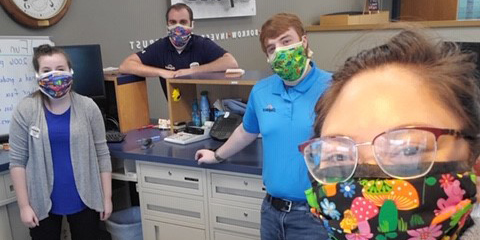 Dupaco's branch lobbies reopen
Updated Nov. 2, 2020, at 8:10 a.m. CT
Welcome back! You have one more way to access your money again: Dupaco Community Credit Union reopened most of its branch lobbies.
Even though Dupaco restricted its lobbies during the early COVID-19 response, the credit union has remained open—serving members through drive-up, phone, email and online services.
Here's what you can expect when you return to a branch:
Which branch lobbies have reopened?
Walk-in traffic to all Dupaco lobbies—except the branches at Hy-Vee in Dubuque, Iowa, and Platteville, Wis.—reopened June 2.
Dupaco's Hy-Vee branch reopened June 29, and the Platteville lobby reopened July 16.
The Sycamore branch lobby in Dubuque, Iowa, temporarily closed to members and the public Saturday, Oct. 31, until further notice. The Sycamore drive-up lanes are open, but wait times might be long. The ATM lane and night drop remain available for use. Members are encouraged to use other branches, which are open for business as usual.
You can find your closest location here.
All Dupaco lobbies closed March 18 to walk-in traffic for both your safety and that of staff.
As state governors began lifting restrictions on businesses, the credit union prepared its branches for the transition. Dupaco continues to follow health and safety guidelines provided by local, state and federal officials.
What are the branch lobby hours?
Dupaco's branch lobbies have resumed regular business hours.
You can find the hours of your favorite branch here.
What business can I conduct in the branch?
All of your credit union needs can be served in branches again.
Have safety measures been added?
Social distance spacing, personal protective equipment and sneeze/cough barriers are in place. And extra cleaning and sanitizing precautions take place daily.
Dupaco staff will wear masks for your protection. And the credit union encourages you to do the same. But Dupaco will only require masks if distancing can't be maintained or local mask ordinances are in place.
You might experience longer wait times due to the enforced distancing measures.
How can you help? You're encouraged to come to the branch alone, or with as few people as possible, to help with distancing and serving you and fellow members as quickly as possible.
Branch restrooms are currently closed to members.
What other ways can I access my money?
You still have other safe, convenient ways to access your money and your credit union, including: