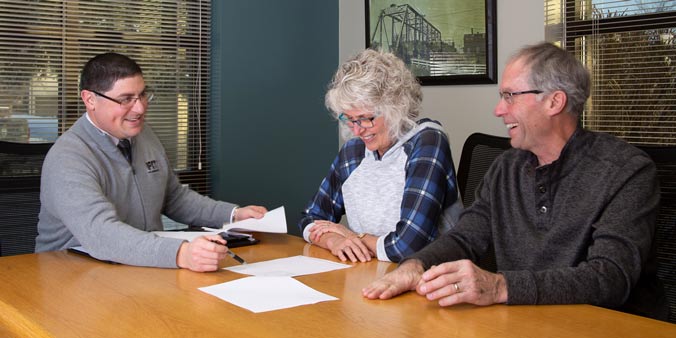 (S. Gassman photo)
How to make your estate less overwhelming for your survivors
Attend First Community Trust's free webinar and learn how to make your retirement savings last through retirement, understand the distribution rules and options, and find out what to do with your 401(k).
Wednesday, Oct. 19
5:30 p.m.–6:30 p.m.
Virtual Webinar
Creating an estate plan is a lot like going to the dentist. You know you should do it, but it's not exactly pleasant.
"One of the purposes of estate planning is to communicate our wishes to those who come after us," says Jim Liddle, vice president, trust officer at First Community Trust.
By having a plan in place, it can make life easier for those who are left behind.
Liddle says there are several steps you can take now that will be invaluable to your loved ones later.
Steps to put an estate plan in place:

1. Work with an attorney.
Work with an estate-planning attorney to have a correctly executed will and/or a revocable living trust. Depending on your situation, you might find that utilizing a revocable living trust is beneficial for you and your heirs and is a way to avoid the probate process.
2. Keep your financial records up to date.
This way, when your executor is working to collect the assets in the estate, there is a great reference to work from. Periodically review that list with your executor to make the process easier. If you are not comfortable sharing specific financial details, sharing where your accounts are located can be helpful.
MORE: A simple timeline of the typical probate process
3. Consolidate your financial relationships.
As you age, it can reduce stress to consolidate your relationships with your financial institutions as well as your investment accounts. During life, this can keep things simple. And upon passing, this streamlines the estate process.
4. Communicate your wishes.
This communication can be in the form of a will or trust that is read after your passing. If possible, talk about your intentions with your heirs to reduce any surprises that might arise after you are gone.
"This might be the most important thing you can do," Liddle says. "Communicating your wishes and intentions to your heirs is key to a smooth process."
Dupaco partners with First Community Trust to bring members a full line of trust, investment, retirement and wealth-management services.