Retirement
A comfortable retirement is the ultimate deliverance of The American Dream.
But the absence of a carefully crafted plan means your retirement dreams may fall short and remain just—well, dreams.
Typically, Social Security and pensions alone will not sustain the average retiree's lifestyle.
It's up to you to save enough money by way of IRAs, 401(k) plans, and other investment vehicles to cover the shortfall.

Start planning for your retirement:


Know your retirement needs.




Experts estimate that you'll need about 70% of your pre-retirement income—for lower earners, 90% or more—to maintain

your standard of living when you stop working.

Ask your employer to start a plan.




If your employer doesn't offer a retirement plan, suggest that one be started.

Find out about your Social Security benefits.




The Social Security benefits you (and a spouse) will receive at retirement can be estimated based on your average annual income,

your current age and your age when you retire. You can estimate your Social Security benefits with this

interactive calculator

.

Put your money into an Individual Retirement Account.




Eligible individuals can put up to $5,500 a year, with an additional $1,000 catch-up provision for those 50 or older, into an

Individual Retirement Account (IRA)

and gain tax advantages.

Learn about your employer's pension
or profit-sharing plan.


If your employer offers a plan, check to see what your benefit is worth.

Don't touch your savings.




Don't dip into your retirement savings. You'll lose principal and interest, and you may lose tax benefits.

Contribute to a tax-sheltered savings plan.




If your employer offers a tax-sheltered savings plan, such as a 401(k), sign up and contribute all you can.

Your taxes will be lower, your company may kick in more, and automatic deductions make it easy.

Start now, set goals, and stick to them.




Start early. The sooner you start saving, the more time your money has to grow.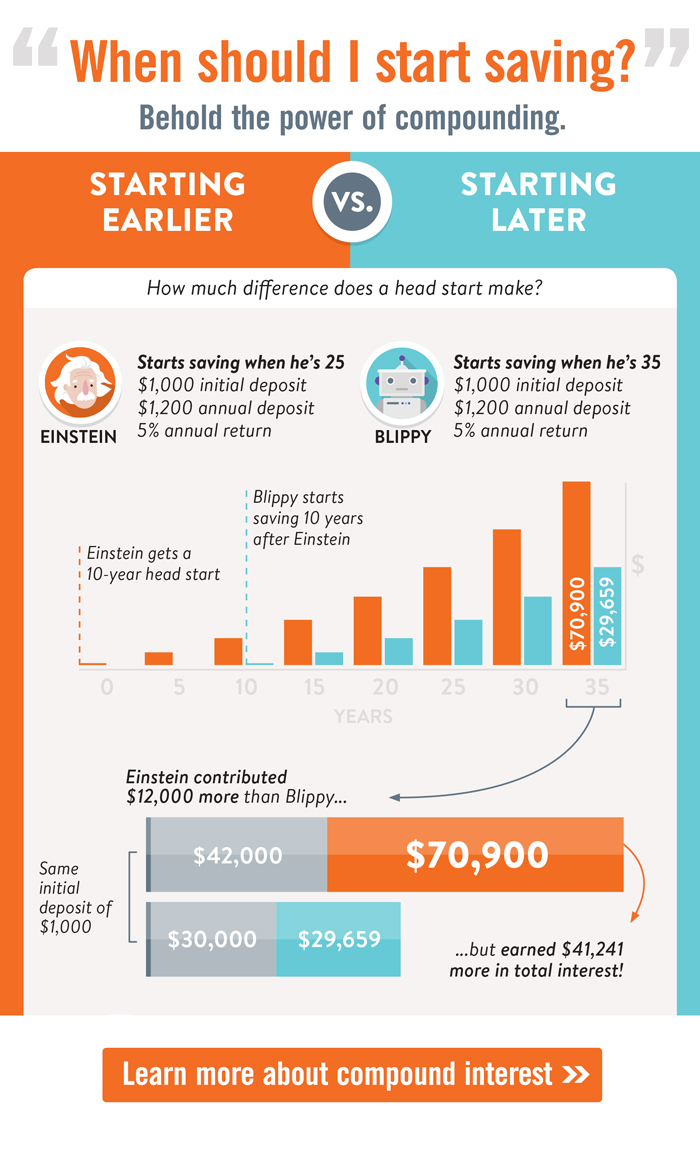 How much should I save for retirement?
The starting point for any retirement planning is an understanding of what your retirement needs will be.
Once you've done that, you'll have a target to aim at and be able to put together a savings plan that will get you there.
CALCULATE HOW MUCH YOU SHOULD SAVE FOR RETIREMENT
To help you plan and reach your retirement goals:
To assist you in your planning, schedule a no-cost, no-obligation consultation
with Dupaco Wealth Management or Dupaco Financial Services.
How long will my retirement savings last?
There are a number of key factors that will determine that, including your monthly spending and other sources of income.
The rate of return on your outstanding savings balance, the taxes you pay on withdrawals and the impact inflation has
on your required monthly spending will all have significant impact as well.
CALCULATE HOW LONG YOUR SAVINGS WILL LAST
Review your financial plan regularly.
As you plan for retirement, it's important to review your financial plan regularly to make sure you stay on track.
A financial checkup is an opportunity to review your current situation, identify any major life events,
and take steps to make sure you are still on the right path to reach your retirement goals.
A financial checkup explores the following steps:


Examine your current situation.
Set your goals,
establish a budget
, know your debts and accounts.
Plan for the unexpected – the "what ifs" of life.


No matter what your age or life stage, organizing and communicating this information is crucial
so that your family will be able to find the information they need to manage or settle your affairs if needed.
It is recommended you start by making a list of all the legal and financial documents and accounts you have.

Click to download our FREE Master List document that will help you organize the important information in your life.

ADDITIONAL RESOURCES


AARP is a nonprofit, nonpartisan organization that helps people 50 and older improve the quality of their lives.
Visit AARP's website for free and insightful information on everything from health and insurance,
to technology trends and discount offers and much more.


TRY OUT ALL OF OUR RETIREMENT & INVESTMENT CALCULATORS