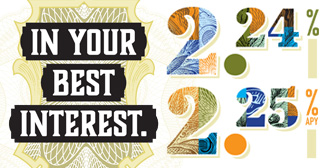 Bump up your balance!
Our 2.24/2.25APY 60-month Bump Rate Certificate takes a minimum deposit of $5,000, and gives you a one-time opportunity to bump the dividend rate to something better if rates rise later!* As a credit union, we have your best interest as the bottom line.

Take advantage of this special now by opening your term share certificate online.