Student Loan Refinance
Refinance your student loans to one easy payment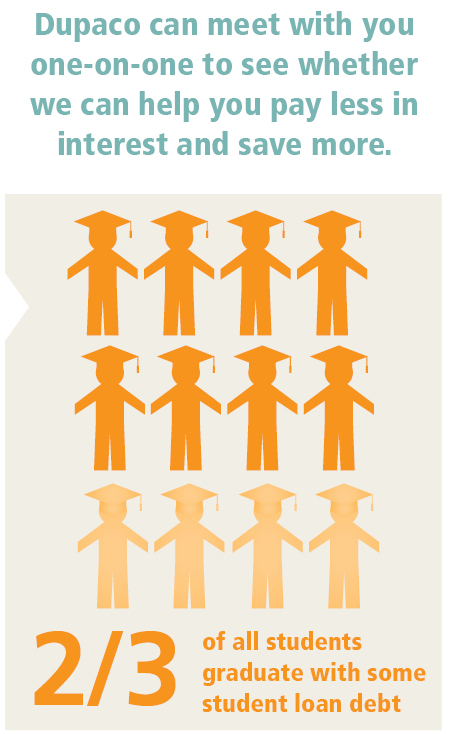 Repaying student loans isn't anyone's favorite task. And it's possible you could have numerous loans with varying interest rates from different lenders, meaning you have to make multiple payments. If you are in grace or repayment on one or more private or federal student loans, Dupaco can help make your loan repayment less stressful.
With our student loan refinance option from CU Student Choice, you'll be able to consolidate your existing private or federal student loans, including PLUS loans, up to $125,000, into one manageable loan with a local lender you can trust, and potentially lower your rate.
You may consider refinancing your student loans if:
You're paying a high interest rate on your loans
You have multiple private student loans and/or higher rate federal loans
You have a good credit history or a strong co-signer
Remember: if you refinance your federal student loans, you may lose certain borrower benefits from your original loans. These may include interest rate reductions, principal rebates, or some cancellation benefits that can significantly reduce the cost of repaying your loans. See disclosures for full details.
Who is eligible for student loan refinance?

College graduates who are:
U.S. citizens or permanent residents who have graduated from an approved public or private not-for-profit school.
In repayment or grace on one or more outstanding private or federal student loans
Able to pass a credit check (a cosigner may be necessary in order for you to meet credit criteria, and may also help you qualify for a lower rate)
Eligible for credit union membership (you may apply without being a Dupaco member, but you will need to become a member in order for the loan to be funded)
If you are considering refinancing your student loans, learn more and see current loan rates, or apply for our Student Choice loan consolidation below.
For more information, contact our loan department at loans@dupaco.com or 800-373-7600 / (563) 557-7600, ext. 202.