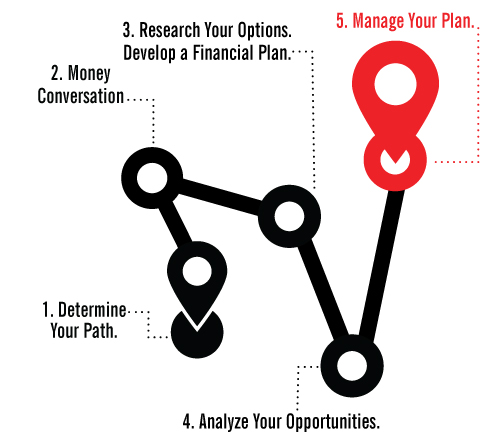 Manage Your Plan
Your decision is made and you are on the path to your future. Whether you chose to attend a four-year college, two-year college, or an alternative option, developing strong money-management skills are necessary to ensure financial wellness.

Check out these survival tips from a recent college grad.
Create a spending plan
"People don't plan to fail, they just fail to plan." This paraphrased wisdom from Benjamin Franklin applies today to managing money and increasing savings. A budget is an important tool when creating your spending plan. It helps you determine how much of what you make you keep and where your money is going.
Identify how much income you have each month.
List all of your necessary expenses.
Use the money left over each month wisely and put a little away in savings.
Depending on your type of school loan, consider paying the interest while in school to help reduce what you will owe after graduation.

Download our Budget Worksheet.
Spending account and credit cards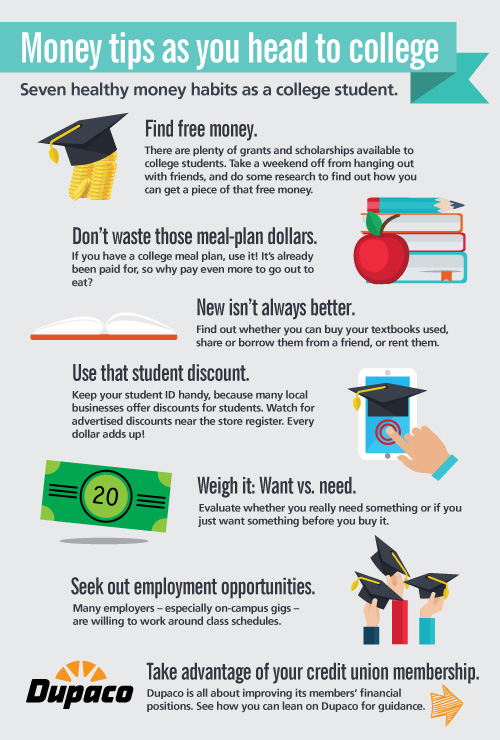 Handle your money and credit responsibly, as these can have an impact on both your immediate situation and your future.
SPENDING ACCOUNT
Monitor your spending account by using online banking to review your transactions.
Set up alerts to notify you of things like low balances, as you don't want to spend money on things you can avoid, like fees.
Keep an eye out for fraud on your accounts and notify the financial institution immediately if you notice unauthorized transactions.
CREDIT CARD
STUDENT LOANS
If you will be taking out student loans, make sure you keep track of how much you borrow each year. It can be easy to look at each year individually, but you don't want to be in over your head after you graduate.
Research your scholarship and grant opportunities each year.
Fill out your FAFSA each year to determine how much financial assistance you will receive.
Create your financial aid checklist each year so you know exactly what you will owe in addition to financial assistance.
Understand your repayment options on your student loans after graduation.
Understand the type of student loans you take out each year. Depending on the type of loan, you may be responsible for the interest while in school. Consider paying the interest while in school rather than letting it build, as you will still owe this after graduation.

Download a printable Comparison Worksheet on page 12 in our Toolkit.
To assist with education financing, Dupaco offers student loan options to help cover the gap left by grants and federal student aid.