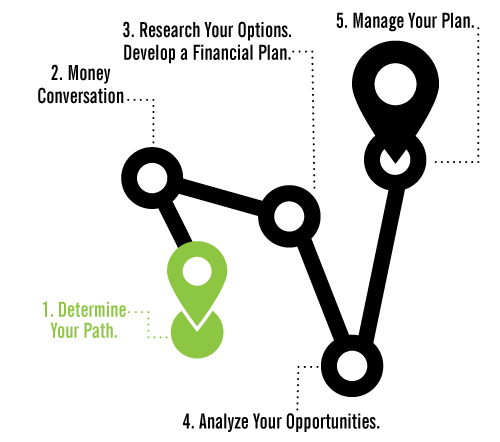 Determine Your Path
Some high school students know what they want to do after graduation and what path they need to take to accomplish their goal, while others aren't as sure and don't know what the next steps are to take.
To help guide you on your exploration, the following steps can help you determine your path:
Explore your interests.
Explore your options for post-secondary education institutions.
Explore your options outside of the traditional education institutions.
What are your interests?
Before deciding on school and where to go, you should first try to identify what it is you are interested in. What can you see yourself doing after college?
Download our toolkit to help you identify your interests and uncover the career opportunities and salary potential.

Research majors & careers at College Board.

What are your options: Post secondary?
If school is your next step, what options best fit your goal and financial situation? Use the chart below to better understand the colleges and their costs and success rates.
There are options available that provide a no-debt or low-debt approach to continuing your education. These options may not be right for everyone, but if you are interested, make sure you fully research and understand these paths to education and a career.
What are your options: Military?
If school isn't your next step but is still in your plan, is a career in the military for you?

Visit U.S. Department of Veteran Affairs to see if the GI Bill can provide financial assistance in obtaining a degree.
What are your options: Gap year?
Maybe you aren't ready for school or need hands-on experience to help figure out what career is best for you. This option is not for everyone, but many students may benefit from taking a year off between high school and college. This decision shouldn't be taken lightly, but when done right, it can have a great impact on how you approach your post-secondary education.
A gap year doesn't necessarily mean a year of self-exploration traversing across the world. In fact, some colleges are now encouraging students to take a gap year before continuing their education. However, there are some steps which experts say are crucial to ensuring a successful experience.

For more information, visit the American Gap Association.