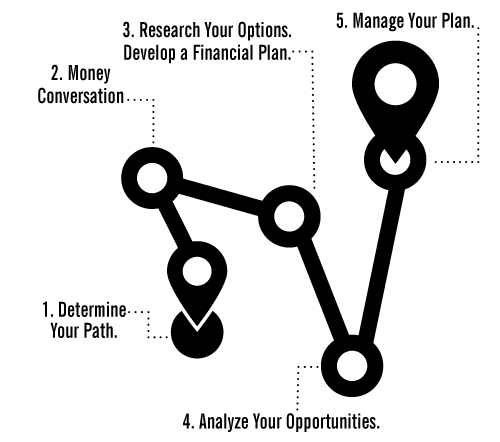 Heading to College
Making the transition from high school to college can be exciting and frightening all at the same time. There are many choices you will have to make along the way. Get started by having a discussion on what you want to do with your life.
Here are some steps that will help you explore your options: "Fewer than half of high school students across the country feel they're ready for college and careers, even though these remain top goals for students..." [edsource.org]
1. Determine Your Path.
What you plan to pursue as a career and the education path you choose to help you get there are big decisions with price tags.
Research career and education options and develop a personal plan.

2. Money Conversation.
Financial decisions made now can affect the rest of your life.
Will your parents help you with education financing? If yes, how much?
What will you be responsible for contributing?

3. Research Your Options. Develop a Financial Plan.
Identify your education options and associated costs.
Educate yourself on financial aid that may be available to you and understand the ins and outs.
Identify financial assistance options.

4. Analyze Your Opportunities.
Compare your opportunities.
Determine which path is right for you.

5. Manage Your Plan.
Stick to your plan during your education experience.
Begin to think about and plan for budget changes you will face in the years ahead.
Review your financial plan each year to stay on track.

Download our free printable Education Planning Toolkit to help you through each step.
Student debt is a major issue in America and will likely become one of the largest financial obligations of a student's life, impacting future choices, such as buying a home or starting a family.
Download the How to Prepare and Pay for College webinar's handouts