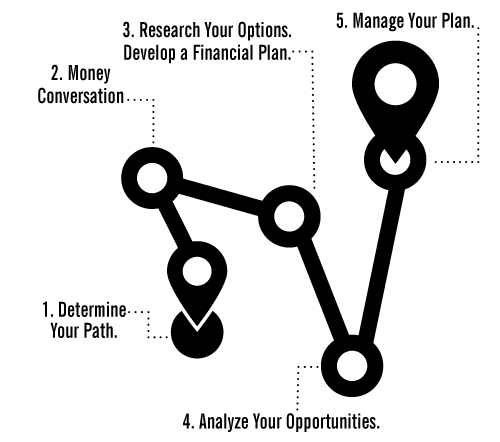 Heading to College
Making the transition from high school to college can be exciting and frightening all at the same time. There are many choices you will have to make along the way.
Here are some steps that will help you explore your options:
1. Determine Your Path.
What you plan to pursue as a career and the education path you choose to help you get there are big decisions with price tags.
Read more >


2. Money Conversation.
Will your parents help you with education financing? If yes, how much? Read more >

3. Research Your Options.
Identify your education options and associated costs. Educate yourself on the financial aid available to you.
Read more >


4. Analyze Your Opportunities.
Compare your opportunities and determine which path is right for you.
Read more >


5. Manage Your Plan.
Review your financial plan each year to stay on track.
Read more >


Download our free printable Education Planning Toolkit to help you through each step.