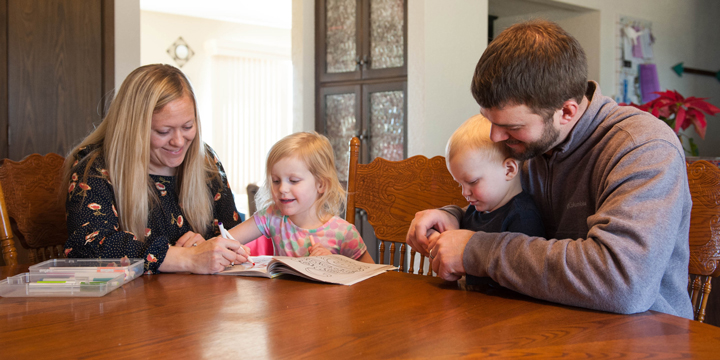 Dupaco members Kelly and Aaron Otting play with their two children at their home in Worthington, Iowa. With the help of Dupaco Insurance Services, they were able to get more than five times their current home and auto insurance coverage while saving $730 a year in insurance premiums. (M. Blondin/Dupaco photo)
---
Kelly and Aaron Otting consider themselves money savvy.
That's why the longtime Dupaco Community Credit Union members from Worthington thought they were getting a good deal on their home and auto insurance coverage.
When Dupaco Insurance Services agent Ken Bowers, at the Dyersville branch, offered to provide his friends an insurance quote, the Ottings kept putting it off. But last fall, they agreed to let him try to beat their amazing deal.
Bowers came back with a proposal that not only provided the family more than five times their current coverage, including a $1-million umbrella policy, he also saved them $730 a year in insurance premiums.
"I couldn't believe it. I honestly thought our insurance was so good that he wouldn't be able to beat it," Kelly said. "Now I'm kind of sad we didn't do it sooner."
Kelly said the savings are significant to her family of four, and she and her husband plan to put those dollars to work by paying down their Dupaco mortgage even faster.
"I used to recommend our old insurance company," she said. "But when Ken told me what he could save us, I started telling everyone to at least try Dupaco Insurance Services out."
Dupaco Insurance Services is only licensed in the states of Iowa, Illinois, Wisconsin, Minnesota, and Arizona.

Dupaco Insurance Services is a division of Dupaco Financial Services, Inc., a wholly-owned subsidiary of Dupaco Community Credit Union. The purchase of insurance is not required in conjunction with the granting of any particular credit union service and the products offered are not endorsed or insured by Dupaco Community Credit Union. Mutual funds, annuities, and other investments: are not deposits; are not insured by the NCUA or any other regulatory agency; are not obligations of, or guaranteed by Dupaco Community Credit Union or any other affiliated entity; are subject to investment risks, including possible loss of the principal amount invested.
By Emily Kittle