Iowa's annual Sales Tax Holiday is synonymous with back-to-school shopping. But the two-day event, Aug. 5-6, waives the typical sales tax for plenty of other occasions.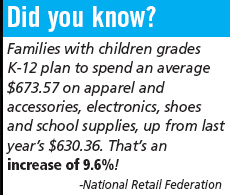 During these two days, no sales tax is collected on the sale of select clothing or footwear priced less than $100. And it applies to each exempt item, regardless of how many are sold on the same invoice.
You don't need to have a student in the family to reap the savings. If you are planning a wedding, the parent of a baby or even on an early hunt for the perfect Halloween costume, you might be able to skip the sales tax too.
Some of the more unique items exempt from sales tax (if priced less than $100) on the Iowa Department of Revenue's list include:
Aerobic clothing
Antique clothing
Aprons
Baby bibs, clothes, diapers and receiving blankets
Bathing suits, caps and cover-ups
Bow ties and ties
Bridal apparel, including veils
Chef's uniforms
Costumes
Formalwear, including prom dresses
Fur coats and stoles
Scout uniforms
Tuxedos and vests
Select work clothes and uniforms
Like with any shopping event, it's important to plan ahead, use your coupons and stick to a budget, says Lynne Willenborg, lending consultant at Dupaco's Dyersville, Iowa, branch. It can be easy to get swept up in the sales-tax savings and spend more than you would have on a typical shopping day.
"Bring the cash rather than the credit card," she says. "Then you have your budget, and when the cash is gone, it's gone."
If the Sales Tax Holiday is a popular event for your family, Willenborg suggests opening a You Name It Savings account to start systematically and automatically saving for next year.
By Emily Kittle