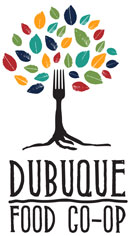 The Dubuque Food Co-op marked its first birthday last month. And the Dubuque area's first member-owned, full-service grocery store has plenty to celebrate.
Since its soft opening May 5, 2014, and grand opening a few weeks later, the Dubuque Food Co-op has continued to attract new believers in its cooperative model.
Opening with 1,600 member-owners, the Dubuque Food Co-op today boasts 2,022 members, according to general manager Patrick Brickel.
Here's a by-the-numbers look at some of the other achievements the co-op celebrated during its first year:
In March, the co-op reached its first $1 million in sales.
It hit the 2,000-member milestone April 22.
The co-op donated $27,000 to local food-need organizations in 2014.
More than 70 local vendors are represented in the store.
In 2014, 20 percent of the co-op's sales were local products.
The co-op reached 5,000 Facebook Likes this month.
And contributing to the early success of the Dubuque Food Co-op are none other than fellow cooperatives. This cooperative concept is nothing new for co-ops. Seven principles guide cooperatives, including cooperation among cooperatives.
"We work with different types of cooperatives in different ways," Brickel said.
The Dubuque Food Co-op is a member of a national cooperative that represents about 200 food co-ops, allowing combined resources and buying power. The local co-op also purchases from other wholesale and worker co-ops that exist to empower farmer-owners and bring their products to market at a fair rate and provide a living wage.
On a local level, the Dubuque Food Co-op has built relationships with several retail food co-ops, allowing them to share systems, ideas and even mentor staff at sister co-ops, Brickel said. Other food co-ops in the tri-state area include:
Dupaco Community Credit Union, which also is a cooperative, is a financial investor in the Dubuque Food Co-op and has provided individual financial counseling to its staff.
Kicking off its second year in business, the Dubuque Food Co-op will continue learning how to run a better business for its member-owners, Brickel said.
"We're always trying to make it even more affordable for members to buy their groceries, carry more local products and create as fun and relaxed an atmosphere as possible," he said. "That feels pretty good for now."