Member Events & Discounts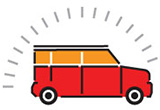 Each quarter, we present a lineup of varied Dupaco-sponsored events and activities for our members to enjoy at free or reduced rates. Check out this list, and also the Community Calendar, which outlines non-profit organizations' events.
Now, get out there and have some fun!

Looking for educational opportunities? Don't forget to check out our available seminars/webinars and financial education classes!

Like us on Facebook to stay up to date on our member events as they become available!