Launchpad
Momentum toward retirement.
Launchpad is a savings account that helps you build momentum towards retirement by helping you establish and grow savings at your own pace. Deposit a little money from every paycheck—and together we'll propel it into something bigger.
We'll set up a systematic savings plan in which a set amount of your paycheck gets directly deposited into your Launchpad account, an account with a higher dividend rate. The goal? Once you have saved $1,000 in your Launchpad account, you'll have learned and demonstrated the discipline it takes to then move that balance into a retirement savings account, like an Individual Retirement Account (IRA) offered through Dupaco.
Launchpad will give you the base from which to begin your retirement saving habits. The growth of your balance may be slow and gradual, but it will pick up speed over time, with the help of compound interest: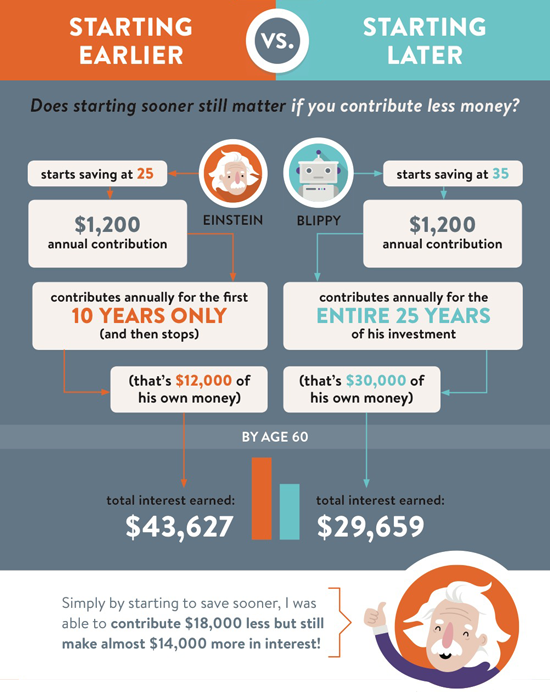 Unlike an IRA, Launchpad has no tax benefits, consequences or reporting. Therefore, you won't suffer tax consequences for withdrawals. However, because the account is intended to be a deposit account, not a spending account, there is a $5 penalty for withdrawals made, unless you have achieved the $1,000 balance goal and are transferring the balance to an investment IRA.
You should consider Launchpad if you:
Have a low to moderate income and struggle to save for retirement
Have no employer retirement plan, or are not currently participating in one
To open a Launchpad savings account, give our IRA department a call at 800-373-7600 / (563) 557-7600, ext. 218.
Launchpad Rates

Current as of: 4/20/2019

Launchpad Savings
.50%
.50%
$5
$1,000