Employee Benefit Program
Dupaco at Work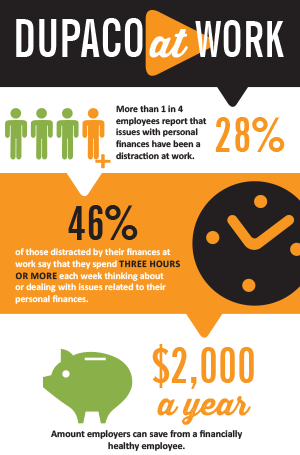 The Dupaco at Work program brings banking convenience and a full array of financial resources to your workplace, educating and empowering your employees to make good financial decisions.
This customizable program offers companies the opportunity to enhance their benefits by offering employees on-site access to financial wellness tools that help them save time and money - all at no cost!
In addition to financial education, we also offer business partners these money-saving and user-friendly payroll services that will save you time, while helping your employees develop good money-management habits:
Direct deposit
Payroll deduction1
Net check2
We'll visit to your operation on a schedule that fits your needs, even during a third shift. If you're interested in learning more, fill out the form below.

1 Payroll deduction allows your employees the option to route a set portion of their paycheck directly to Dupaco Community Credit Union each pay period. Once the deduction reaches the credit union, we then credit the deposit into one or multiple accounts as specifically designated by the employee. Deposits can be made to savings and checking accounts, IRAs, loans, even spousal and children's accounts!
2 Net check offers the ultimate in convenience by allowing your employees to have their entire paycheck deposited directly into Dupaco. As with payroll deduction, once the paycheck reaches the credit union, it can be deposited into multiple accounts as dictated by the employee.