Mobile Deposit
When you receive an occasional check from an aunt, insurance company or elsewhere, you have to find time and a branch to make your deposit. Not anymore.
The mobile deposit feature of Dupaco's mobile app lets you snap a photo of your check and make your deposit electronically. It's FREE, easy and of course it's secure.
How do I use mobile deposit?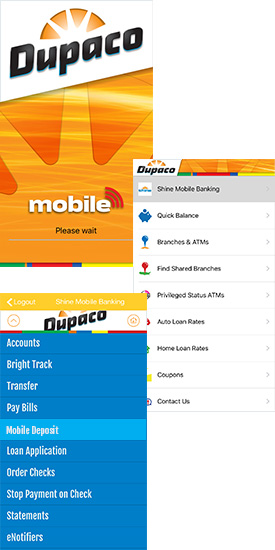 You must be eligible to use mobile deposit, and have Dupaco's free app, version 2.0 or later, downloaded to your device. (Dupaco's app is available for Apple- and Android-powered devices.)
First, endorse the back of your paper check with your name and the words "For Mobile Deposit only at Dupaco."
Then, launch the app, and log in to Shine Mobile Banking.
Select Mobile Deposit from the main menu of Shine Mobile Banking, and follow the prompts to photograph and deposit your check. You'll take a photo of the front and back of a properly endorsed paper check. The check will pass through certain checkpoints for validation and, if accepted, will be credited to your checking or primary savings account.

Is there a cost to use mobile deposit?
Mobile deposit is FREE to all Dupaco members.

When will my deposit be available in my account?
Deposits are not immediately available.
Deposits made between 8 a.m. and 4 p.m. CT Mon.-Fri. will be posted within 5 hours.
Deposits made after 4 p.m. CT Mon.-Fri. will be posted by 10 a.m. CT the next business day.
Deposits are not posted on Saturday, Sunday or Holidays; They will be posted by 10 a.m. CT the next business day.
Dupaco's funds availability policies apply, with $200 available once the deposit is posted and the remainder in 2 business days.
For details and eligibility, refer to our mobile deposit FAQ.