Raise Your Voice
Your collective voices helped defeat bankers' efforts to increase taxes on credit unions during the 2018 Iowa legislative session, which concluded Saturday, May 5, 2018.

Iowa lawmakers' tax reform package ultimately reaffirmed that credit unions are fulfilling their purpose to "provide an opportunity for members to use and control their own money on a democratic basis in order to improve their economic and social condition."
Thanks to all our members who persisted in writing letters, making phone calls, showing up at town hall meetings and rallying in Des Moines. You were the catalyst in this victory.
Legislative Session Recap:

During the 2018 legislative session, the Iowa House of Representatives considered two tax plans: a harmful Senate bill which would raise taxes on credit unions, while slashing bank taxes by nearly $30 million, and a tax plan proposed by the Governor, which did not include a tax increase on credit unions.
Credit union members made their voices heard throughout the legislative session, sending more than 40,000 emails and 2,500 handwritten letters to legislators in support of the cooperative credit union structure. In addition, nearly 800 credit union members visited the Capitol in March to rally for their financial choice.


---
FAQs from banks vs. credit unions in the tax debate:

Why do banks attack credit unions?
For decades, for-profit banks have tried to eliminate or reduce competition provided by not-for-profit credit unions. This is so banks can earn more profits for stockholders.
Is credit union competition hurting banks?

No way. Credit unions believe it's good to have strong, profitable businesses and banks in our communities. And banks are doing well. Profits at Iowa's federally-insured banks rose to $958 million in 2016, according to the Federal Deposit Insurance Corp. The aggregate net income through Dec. 31 was up about 4.9% from $913 million for 2015.
Do credit unions pay taxes?
Yes. Credit unions—including Dupaco—pay taxes. Each year, your credit union pays property, sales and employment taxes, as well as a special monies and credits tax paid only by Iowa-based credit unions on their reserves.

At the same time, the members pay taxes on their credit union dividends when they file their annual tax forms.

Credit unions are exempt from paying corporate income taxes. That's because we promote the economic well-being of our members, especially those of modest means, through a system that is member-owned, volunteer-directed and not-for-profit.
Where do credit unions get the money to pay their taxes?
A tax on credit unions really is another tax on members. The money credit unions pay in taxes comes directly from member benefits. This would mean lower rates on savings, higher loan rates, and less convenience.
How are banks and credit unions different?
Here's a visual that breaks down the main points of differentiation.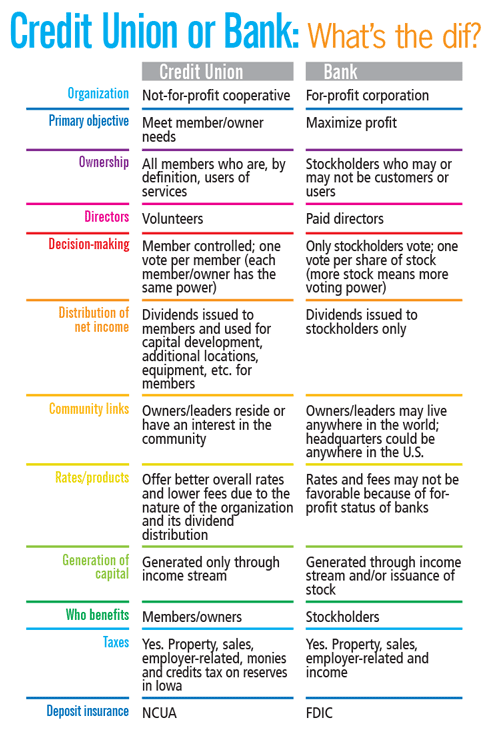 Are bigger credit unions, like Dupaco, different than smaller credit unions?
Not-for-profit credit unions of every size focus on helping working families get ahead.
Dupaco's structure and mission are the same now with nearly 100,000 members as it was in 1948, when 10 employees of the Dubuque Packing Company formed the credit union to help each other improve each other's financial position. Sixty-nine years later, it's the same mission, same structure—Dupaco is just making an even bigger positive impact.
If banks say credit unions have an unfair advantage, can banks become credit unions?
Yes. If banks truly believe the credit union structure has more advantages, then those banks can choose to become credit unions. However, in converting from a bank to a credit union, the new institution must:
Forego profit maximization and focus solely on the needs of the member/owners;
Distribute net income not to stockholders, but only as dividends to all members and for capital deployment;
Allow the membership to vote for the board of directors

—

each member gets one vote, no matter how much he/she has on deposit at the credit union;
Have board members who serve as unpaid volunteers;
Only generate capital through the income stream;
Follow increasingly stringent capital requirements;
Agree to be among the most highly regulated financial institutions in the nation;
Restrict business lending activities to just 12.25% of assets;
Adhere to much more stringent business lending guidelines;
Restrict service to people through a defined common bond, which is approved by the regulator;
Not offer in-house trust services;
Continue to pay property, sales, employer-related taxes, as well as a monies and credits tax on reserves.
What else does Dupaco do to help working families create financial sustainability?
Consumers Save with Competitive Choices
As a not-for-profit credit union, Dupaco's cooperative structure provides an opportunity for members to use and control their own money—on a democratic basis—in order to improve their social and economic condition. Our purpose remains unchanged from 1948, when 10 meat packers founded the credit union to encourage habits of thrift and provide a fair source of credit at reasonable interest rates.

See for yourself: Click here for a state-by-state comparison of average bank and credit union rates for both savings and loan products.
Our community depends on strong banks and credit unions. But as banks continue to reap record profits, competition and consumer choice ensures credit union members AND bank customers get a better deal. And that's good for everyone.
*Credit Union National Association data as of 9/30/16
Dupaco Money Makeovers
We perform annually more than 2,000 free Dupaco Money Makeovers to help members pay less and save more.
Credit History Lessons
Each year, we conduct more than 10,000 free Credit History Lessons to help members and non-members understand their credit report.
Bright Track Credit Score and Full Credit Report Access
Among membership benefits, Dupaco provides free credit monitoring and education through Shine Online and Mobile Banking.
Thank Use Participation Giveback
In 2016, members received more than $2.85 million as part of their participation in Dupaco's Thank Use campaign.
Alternative to Payday Lenders
One-out-of-every-three Dupaco loans is for less than $2,500—as a thrifty alternative to predatory payday loans.
Small Business Loans
For more than 35 years, Dupaco has been a source of capital for growing businesses in our communities. The credit union's median business loan amount is about $40,000.
Matched Savings
We offer individual development accounts with matched savings for low-income asset-building for homes, education, small business and work transportation.
Community Muscle
Every year, our employees volunteer more than 6,200 hours in support of community organizations.
U.S. Treasury CDFI Certification
Dupaco received U.S. Treasury certification as a Community Development Financial Institution (CDFI), which recognizes our service to low-income communities and people who lack access to affordable financial services.
Dupaco is a Thrifty Refuge from Predatory Payday Lenders
Nearly one of every three loans made by Dupaco is a small-dollar loan of $2,500 or less. In 2016, Dupaco made 9,123 loans that were $2,500 or less. These do not include credit card advances or overdraft protection.

Loans $2,500 and less:
Number of Loans Made: 9,123
Average Loan Balance: $1,092
Average Interest Rate: 12.2% APR
Loan Fees Charged: $0
Repayment Terms: Flexible

Of those 9,123 loans, these were $500 and less:
Number of Loans Made: 2,614
Average Loan Balance: $398
Average Interest Rate: 11.27% APR
Loan Fees Charged: $0
Repayment Terms: Flexible

Payday lenders may argue that the APR is misleading because loans are often paid back within two weeks. But, if the borrower is unable to repay the loan in full, the cost of the loan escalates. At this point the loan is "rolled over" into a new loan. If this continues, the original payday loan becomes expensive and starts a cycle of debt. By setting up loans with easier repayment terms, Dupaco can help individuals stop the borrowing cycle.