Our Logo
Dupaco's familiar logo gets a makeover
Adopted in 1995 and revised in 2006, Dupaco's sunburst logo included warm colors and bold text—signifying Dupaco's progressiveness and desire to be a bright spot in the community and the lives of its members.
Eight years later, Dupaco's logo is getting a fresh look.
The main reason for the logo refresh was to develop a mark whose attributes (shape, colors, etc) paired well with evolving digital and mobile technology, and other forms of communication.
Anatomy of the logo
The refreshed Dupaco logo provides continuity with the former mark, and includes the key representative attributes—strength, bright spot, radiance, community-oriented.
Circle sections: The logo incorporates symbolism of the four principles necessary for a vibrant cooperative: member participation; lifetime relationships; sustainable communities (economic, social, environmental); and sound management (board, management, staff). These four principles are represented visually via the gold circle sections of the arc.
Golden circle: The circle sections of the arc are a part of the larger, golden circle, which represents community.
Burst: The credit union's passion and energy is reflected in the burst, which now is illustrated by negative space in front of the circle. This bright white burst has no boundaries, signifying the ongoing positive impact radiating from the credit union and into the lives of our members and communities. The five points of the burst represent Dupaco's five core offerings (save, borrow, invest, insure, trust), which make a positive difference in the lives of our members.
Negative spaces: The interplay between the positive and negative spaces (circle sections and white burst) illustrates the cyclical organizational structure of a member-owned cooperative.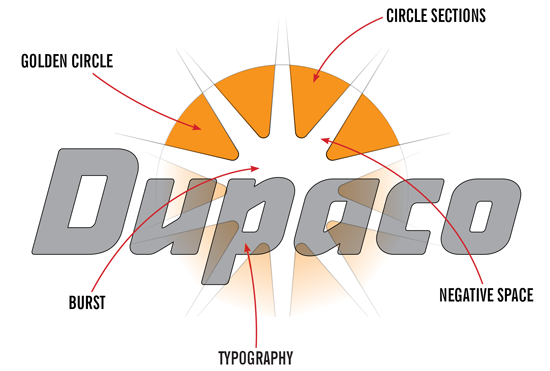 The transition to the refreshed logo will not happen all at once. Instead, to conserve resources, as the supply of printed and promotional materials is depleted, Dupaco will print brochures, letterhead, cash bags, etc. using the refreshed logo. Dupaco's website, mobile app, and Shine Online Banking will begin sporting the new logo mid-July, and exterior and interior branch signage will follow.
While the logo may be slightly different, the credit union's vision, mission and values remain unchanged!