Nearly $24.4 million given back to members since 2016

Together, members share
That's the cooperative difference. Since 2016, Dupaco members have shared nearly $24.4 million in Thank Use! Now that's a reason to celebrate.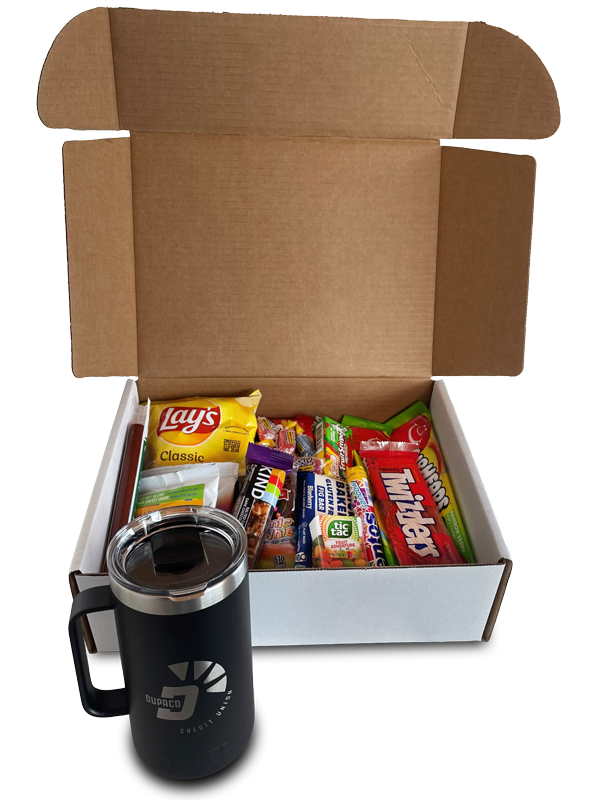 Contest closed
That's a wrap! This contest has ended. Winners will be notified by November 4, 2022.
Participants answered this question for their chance to win a cool box of goodies: How will this year's Dupaco Thank Use payout impact you and your community?
Not a member?
Join the local financial cooperative where your membership pays. Visit your nearest Dupaco branch or open an account online.
Members and nonmembers can participate. Submit your entry by 5 p.m. CT November 1, 2022.
Entries can be submitted online or in person at a branch between 8 a.m CT October 20, 2022 and 5 p.m. CT Nov. 1, 2022. Need not be present to win. No purchase necessary. Must reside in the United States. One entry per person. All participants must be 18 years of age and older to be eligible to enter. 76 total entries will be drawn at random by November 4, 2022, to win a prize; Winners will receive a box of snacks ($20 retail value) that will include a Dupaco Yeti 24 oz Rambler Mug ($35 retail value). Winners will be notified by phone or email. Individuals may mail a written request to be entered into the drawing: Dupaco, Attn: Marketing, PO Box 179, Dubuque, IA 52004-0179. Written request must be received on or before November 1, 2022.
Grant: In exchange for being allowed to participate in this drawing, plus other valuable consideration the receipt of which is hereby acknowledged, I irrevocably grant Dupaco Community Credit Union (Dupaco) and Dupaco's assigns, licensees and successors the right to use my image and name in all forms and media, including composite or modified representations for all purposes, including advertisement, trade or any commercial purpose throughout the world in perpetuity. I waive the right to inspect or approve versions of my image used for publication or the written copy that may be used in connection with the images.
Release: I release Dupaco and Dupaco's assigns, licensees and successors from any claims that may arise regarding the use of my image, including any claims of defamation, invasion of privacy, or infringement of moral rights, rights of publicity or copyright. Dupaco and its assigns, licensees, and successors is permitted, although not obligated, to include my name as a credit in connection with the image.
Duties of Participants; Limitation of Liability: By entering, participants agree to be bound by these rules and all decisions of Dupaco Community Credit Union which shall be final. All federal, state, and local laws apply. Dupaco Community Credit Union and the employees, officers, directors, shareholders, agents, and representatives of Dupaco Community Credit Union, its affiliates, subsidiaries, and advertising, promotion, and legal advisors are not responsible for and shall not be liable for: (i) late, lost, delayed, damaged, misdirected, incomplete, illegible, or unintelligible entries; or (ii) any condition caused by events beyond the control of Dupaco Community Credit Union that may cause the giveaway/event to be disrupted, corrupted, cancelled, or rescheduled; or (iii) any injuries, losses, or damages of any kind caused by a prize or resulting from acceptance, possession, or use of a prize.