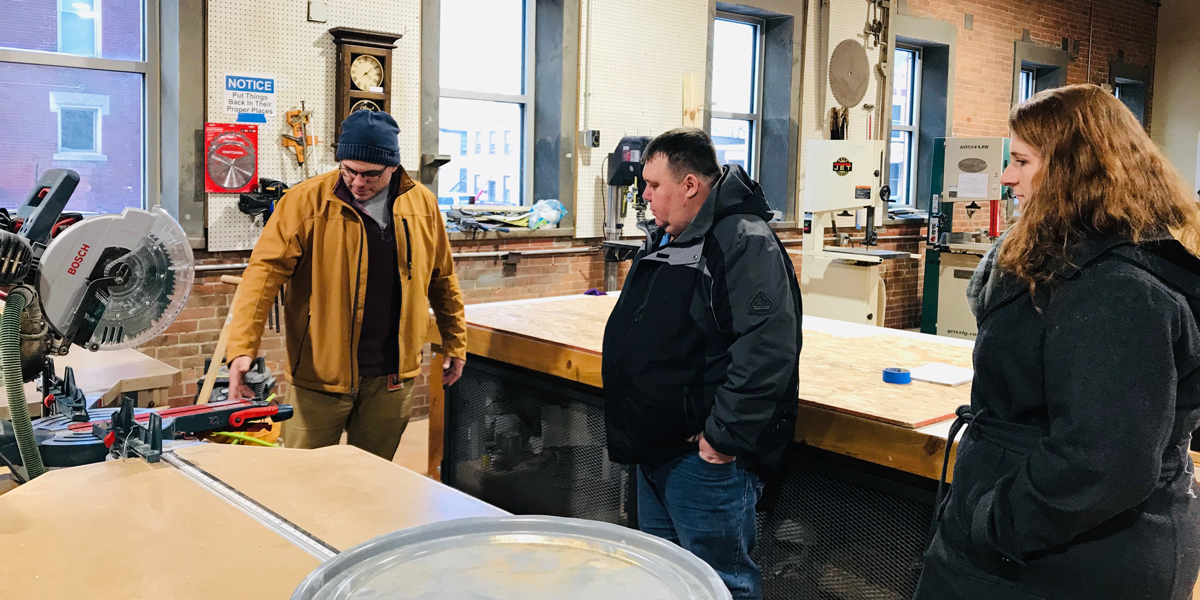 Key City Creative Center owner Tim Hitzler gives Matthew Kane, of Dyersville, Iowa and Samantha Schultz, of Dubuque, Iowa, a tour of the Dubuque space. (E. Kress/Dupaco photo)
Learn how to apply for a makerspace scholarship
Want to learn how to make something? Create projects with others? Maybe even start your own business?
The Key City Creative Center is a unique collaborative makerspace in Dubuque, Iowa, where members create, learn and share ideas. Members can access a variety of tools, equipment and classes, including woodworking, welding and pottery.
And now, through a partnership between KCCC and Dupaco, two nonrenewable scholarships will be awarded!
Apply for a makerspace scholarship
Each winner will receive an annual membership to the makerspace.
Applications are due by 5 p.m. (CT) Tuesday, Nov. 30.
Two applicants will then be chosen to apply for membership. The winners will be announced by Monday, Dec. 20.
Review the makerspace scholarship program rules >
Another way to access KCCC
The credit union also partners with the makerspace to provide Dupaco members 20% off your KCCC membership when you pay with a Dupaco check or make automatic payments from your Dupaco account.