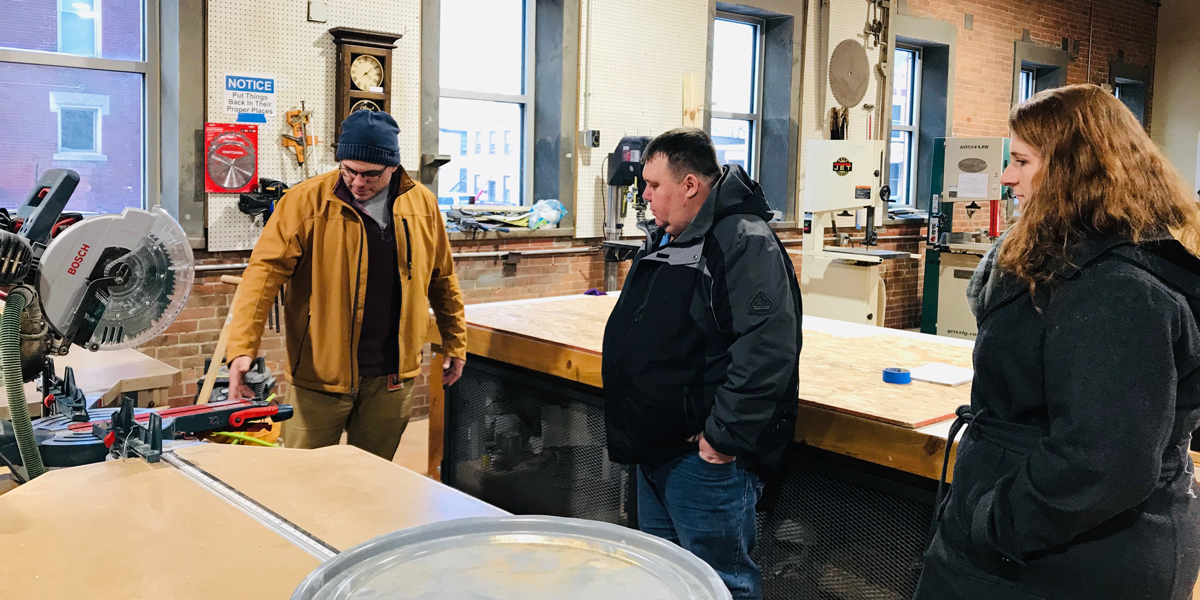 Key City Creative Center owner Tim Hitzler gives Matthew Kane, of Dyersville, Iowa and Samantha Schultz, of Dubuque, Iowa, a tour of the Dubuque space. (E. Kress/Dupaco photo)
Learn how to apply for a makerspace scholarship
Want to learn how to make something? Create projects with others? Maybe even start your own business?
The Key City Creative Center is a unique collaborative makerspace in Dubuque, Iowa, where members create, learn and share ideas. Members can access a variety of tools, equipment and classes, including woodworking, welding and pottery.
And now, through a partnership between KCCC and Dupaco, two nonrenewable scholarships will be awarded.
Apply for a makerspace scholarship
Each winner will receive an annual membership to the makerspace.
Applications were due by 5 p.m. (CT) Tuesday, Dec. 1.
Applications are now closed. 
Two applicants will then be chosen to apply for membership. The winners will be announced on or before Saturday, Dec. 19.
Another way to access KCCC
The credit union also partners with the makerspace to provide Dupaco members 20% off your KCCC membership when you pay with a Dupaco check or make automatic payments from your Dupaco account.