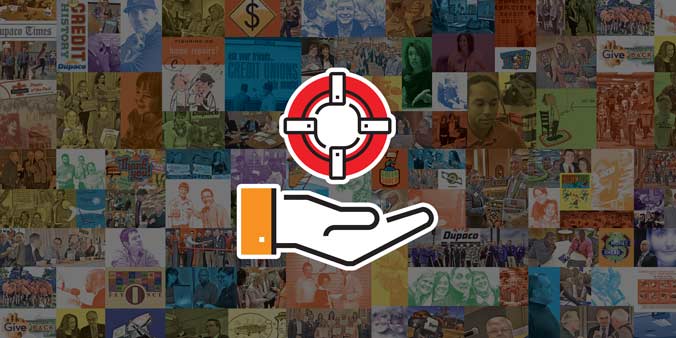 How to find disaster relief help
Whether you're dealing with the aftermath of the Aug. 10 storm or want to help those who are, these disaster relief resources are available.
Need to file an insurance claim? Here's what you need to know >
Financial assistance
Dupaco's Member Relief Assistance Loan
You might be able to use Dupaco's Member Relief Assistance Loan to access funds for cleanup, home repairs, food replacement and other storm-related expenses.
Dupaco offers the low-rate loan to members impacted by catastrophic events, disasters, major layoffs and pandemics.
You can borrow up to $2,500, which must be paid in full after six months.
For more information, call Dupaco at 800-373-7600.
Iowa Individual Assistance Grant Program
Iowa Gov. Kim Reynolds issued a disaster proclamation Aug. 11 in response to the storm's destruction.
The proclamation activates the Iowa Individual Assistance Grant Program for qualifying residents.
The program provides grants of up to $5,000 for households with incomes up to 200% of the federal poverty level or a maximum annual income of $43,440 for a family of three.
The grants can be used for:
Home or car repairs
Replacement of clothing or food
Temporary housing expenses
Original receipts are required to seek reimbursement for expenses related to storm recovery.
The grant application and instructions are available on the Iowa Department of Human Services website. You have 45 days from the date of the proclamation to submit a claim.
211
If you need assistance finding food, paying housing bills or other essential services, call 211 to speak to a community resource specialist. You can get help with:
Supplemental food and nutrition programs.
Shelter and housing options and utilities assistance.
Emergency information and disaster relief.
Employment and education opportunities.
Other disaster relief programs
Iowa Disaster Case Management Program
Disaster Case Management includes time-limited services to eligible households to develop and carry out a Disaster Recovery Plan. The plan provides guidance, advice and referrals to help households address their recovery needs to re-establish normalcy.
Disaster Recovery Resources
Disaster Recovery Resources provides a variety of resources in Iowa to help you recover from a loss of shelter, food and water or belongings.
Food assistance replacement
Households who currently receive Food Assistance may request replacement of food destroyed as a result of the recent storm damage, or spoilage as a result of a power outage. Learn how to apply for Food Assistance Replacement here.
Iowa food pantries
If you're in need of a food pantry or food bank, FoodPantries.org has compiled a list of food resources in Iowa.
Drive-thru aid stations for water, ice and meals are open daily from 9 a.m. to 3 p.m. at:
Kingston Stadium, 907 15th St. SW, Cedar Rapids, Iowa
Mark's Lutheran Church, 8300 C Ave., Marion, Iowa
Marion Walmart, 5491 U.S. Highway 151, Marion
Mental wellness
American Red Cross
The American Red Cross offers a free 24/7 support line for counseling and support. You can contact the Disaster Distress Helpline at 800-985-5990 or by texting "TalkWithUs" to 66746.
Behavioral Health Response Team
The Iowa Disaster Behavioral Health Response Team provides trained volunteers to assist with mental health needs following disasters and critical incidents.
National Suicide Prevention Lifeline
If you're struggling and need to talk to someone, you can also call the National Suicide Prevention Lifeline 24/7 for free, confidential support at 800-273-TALK.
Local government updates
CR News Now
Sign up for the latest city of Cedar Rapids updates with CR News Now. You'll receive short messages via text or email.
Linn County Emergency Management Agency
Linn County Emergency Management Agency is helping coordinate disaster response and communicate food, shelter and medical assistance information.
Linn County Public Health
Linn County Public Health is providing updates on debris removal, burn permits, road closures and more.
Marshalltown Home Cleanup Hotline
The Home Cleanup Hotline is now open to residents of Marshalltown. You can log your damages and needs by calling (844) 965-1386. This provides volunteer disaster response groups with access to your information so they can reach out to you directly.
Tama County Emergency Management
Follow the latest updates from Tama County Emergency Management here.
Utility updates
You can track outages with utilities here:
Volunteer opportunities
To volunteer with storm recovery efforts, go to United Way's website for the latest opportunities.