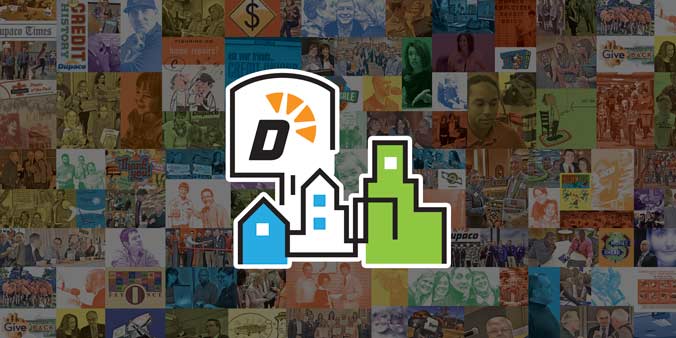 Community resources to help you during this new normal
Maybe you're working from home with your family as officemates. Or, you've become unemployed and are wondering how you're going to pay your next bill. If you have kids, you're likely trying to help them with their virtual schoolwork.
We've all been impacted by the COVID-19 pandemic—some much more than others.
So, as the Healthiest State Initiative says, it's OK to not be OK right now.
To help you navigate whatever your new norm is, this guide includes community resources focused on your wellness:
Financial wellness
Dupaco
Dupaco is here to help you. Here are a few ways your financial cooperative can support you during this time:
We've deployed several temporary measures, including loan deferrals and waived fees. Learn more here.
Our online help form lets you tell us how we can help you if you're concerned or are experiencing a financial hardship.
Check out our COVID-19 page for information on everything from managing your money and unemployment to how to access your money and Dupaco accounts from a distance.
211
If you need assistance finding food, paying housing bills or other essential services, call 211 to speak to a community resource specialist. You can get help with:
Supplemental food and nutrition programs.
Shelter and housing options and utilities assistance.
Emergency information and disaster relief.
Employment and education opportunities.
Health care, vaccination and health epidemic information.
Mental wellness
Healthiest State Initiative
The Healthiest State Initiative has an important message right now: It's OK to not be OK.
The organization has compiled several health-focused resources, including a 24/7 support line.
If you need someone to talk to or need help accessing mental health resources, Your Life Iowa is available 24/7:
American Red Cross
The American Red Cross also offers a free 24/7 support line for counseling and support. You can contact the Disaster Distress Helpline at 800-985-5990 or by texting "TalkWithUs" to 66746.
The organization has also provided tips to help cope with stress stemming from the pandemic, including:
Connect with loved ones through video calls, phone calls, texts or social media.
Avoid social media accounts and news outlets that promote fear or rumors.
Eat healthy, drink plenty of water and get enough rest.
Unless you are showing signs of illness or have tested positive for COVID-19, going outside to exercise and walk pets is okay. But don't forget to practice social distancing by keeping at least six feet away from others and wearing a cloth face covering when in public.
Be patient with yourself and others.
Hold an image in your mind of the best possible outcome.
Make a list of your personal strengths and use these to help both yourself and others stay emotionally strong.
Relax your body often by doing things that work for you—take deep breaths, stretch or meditate, or engage in activities you enjoy.
If you are religious or spiritual, follow practices at home that provide you with comfort and emotional strength.
Health insurance options
Some health insurance companies offer virtual counseling to help with anxiety, depression, relationships, stress and more. Check with your health insurance carrier to learn about available options.
Physical wellness
Many gyms and fitness experts are bringing workouts to you through YouTube, Facebook live and other social media avenues. Here are few worth checking out:
Peloton is offering free 90-day trial on its app, even if you do not have the equipment. The offer is available until April 30.
Planet Fitness features free workouts on Facebook Live and online called United We Move.
Check with your local gyms. They might be offering classes on Facebook, too!
Family wellness
Online safety
Your kids are likely online now more than ever, thanks to virtual learning and social meet-ups. If you're concerned about their safety online, the Federal Trade Commission provides tips to help you keep your kids safe online.
Fitness for kids
You can also find several at-home exercises for kids, including:
Hy-Vee KidsFit: Hy-Vee streams free online 15- to 20-minute videos at 9 a.m. daily.
GoNoodle: Kids can get active with movement and mindfulness videos. It might even bring a little school into their lives since many teachers incorporate these videos into the school day!
Healthiest State Initiative: Check out their top 10 ways to keep your kids moving.
Try new activities
Stuck at home? There are plenty of ways to pass the time together:
Dupaco's PACK-tivities: Check out some fun ways to teach your kids about money, and download our PACK-tivities to help keep them busy.
Kids Out and About: There are plenty of fun, educational activities to try or revisit.
Child care resources
Iowa Child Care Resource & Referral: Use this resource to help you find child care options.
Family meal resources
If money is tight, know that help is available, especially when it comes to providing food for your family. Many school districts are offering curb-side meal pickups, including:
Work-from-home wellness
If you're working from home, these strategies might help you continue to adjust to your new temporary office:
Create a space
Find a space in your home where you can focus and, if possible, have privacy. Use this space for work. Try to do most of your work from this designated space. Limit the amount of distractions by turning the TV off. Try to use this space in the same way you would use your typical workspace.
Stick to a schedule
Try to stay in a routine that's similar to how you typically spend your time in the office. Try to establish working hours and self-care and family time. During your workday, carve out time for your morning coffee or call a colleague to connect.
Take a break
Instead of powering through your workday, remember to find time for a break midday or several small breaks. This will provide you with time to disconnect from work and do something for yourself or your family. It will also help you refresh and better focus on the work ahead.
Set boundaries
In addition to setting boundaries around your working time, communicate boundaries with anyone you live with. Let them know when you are unavailable and make an effort to update them on your work routine so they know what to expect. Communicate with those in your household ahead of virtual meetings to help limit disruptions as much as possible.
Distractions
Be conscious of the distractions around you at home. You're still working. Don't let the things around you (chores, TV, social media) take you down the road of procrastination. Having some background noise that doesn't require attention can be a focus driver. Limit chores and social media posts to breaks.
Establish healthy habits
Schedule time for well-being opportunities throughout your workday. This can mean having a healthy lunch, doing an online yoga video or getting outside for fresh air if possible. Consider planning your snacks and meals to avoid mindless eating throughout the day. Also plan time for movement and rest. While you might not need to get up as early as usual, stick to a consistent sleep and wake routine.