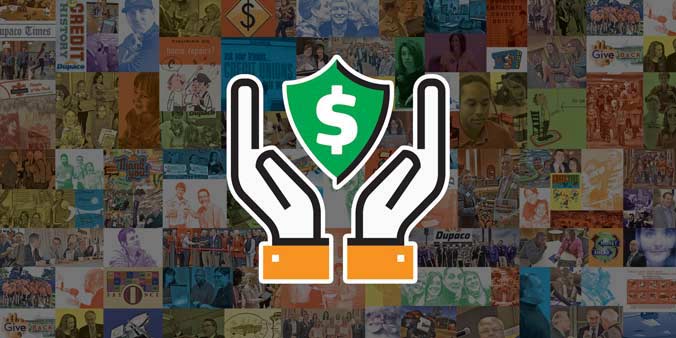 Your money is still safe at Dupaco
Feeling uneasy during these uncertain times? It's understandable. And you're not alone.
But as you navigate the COVID-19 pandemic, know that some things remain unchanged: Your money and account information remain safe at Dupaco Community Credit Union, and your financial cooperative is here to help you.
"Dupaco is safe, secure and strong, and we're here for our members," said Dupaco's Jill Gogel, assistant vice president, fraud services. "We're in this for the long haul."
During these times, resist the temptation to withdraw and personally store large sums of cash.
"That's when bad things start to happen—thefts, fires, any number of things. In times of crisis, fraud and thefts ramp up," said Chief Operating Officer Matt Dodds. "This credit union in particular is a beacon of strength. And this is where your money will be safe."
Here's how your credit union is keeping your money and account information safe—and looking out for your best interest:
Dupaco remains strong
Dupaco remains as financially strong as any point in its history.
In 2019, the credit union again received a 5-Star Superior rating from BauerFinancial.
What does this mean? The rating recognizes Dupaco as one of the strongest—and safest—financial institutions in the country.
Dupaco's capital ratio of 15% is twice what's required by regulation. Capital ratio measures a financial institution's reserves as a percentage of assets. A higher capital ratio means the financial institution has enough cushion to absorb losses if presented with uncertain economic conditions. And it's a key measure of a financial institution's strength.
"Dupaco will continue to be a safe, secure place to hold member deposits," said Chief Financial Officer Danielle Gratton.
Your money is insured
Did you know that all of your deposits at Dupaco are insured?
Deposits are federally insured up to $250,000 by the National Credit Union Administration, which is a U.S. government agency.
Members of federally insured credit unions have not lost one penny of insured deposits in the entire history of credit unions!
How you have your accounts structured dictates your coverage.
For example, you might qualify for more than $250,000 in coverage at one insured credit union if you own share accounts in different ownership categories. The most common account ownership categories for individual and family shares are single owner accounts, joint accounts, certain retirement accounts, revocable trust accounts and irrevocable trust accounts.
Your account information is secure
To help support social distancing efforts, many Dupaco employees are working remotely from their homes.
But regardless of where employees are located, your account information remains safe and secure. Information security is a top priority for the financial cooperative.
"Many organizations had to rush into remote working due to the pandemic," said Chief Information Officer Steven Ervolino. "Through our normal course of business, we have many remote workers, so we were uniquely positioned to simply increase the number of staff, not rush to implement remote access."
Dupaco employs many layers of data security tools and practices that are reviewed multiple times each year by third-party security experts and government regulators.
The credit union's remote access system securely isolates each employee's device from Dupaco's computer systems and member data.
Staff must use two-step verification to remotely log into these systems. And staff also are required to lock their stations when not in use.
Help is here
As with anytime, your credit union stands ready to help you if you're experiencing financial difficulties.
For help, call Dupaco at 800-373-7600. And know that you can always access your money a variety of ways, including:
"We've got your back now, and we'll have your back after the pandemic is over," said Meggan Heacock, vice president, controller.