Dupaco members Mike and Marsha Stewart meet with First Community Trust's Jim Liddle on Jan. 17 at Dupaco's branch in Platteville, Wis. (ByWendy photo)
First Community Trust helps members with pension plan dilemma
PLATTEVILLE, Wis.—When Marsha Stewart retired, she had to decide which pension plan was right for her and her husband, Mike.
Without knowing what their future would bring, the decision weighed heavily on the Platteville woman. So the afternoon before Marsha needed to choose a pension plan, she made an impromptu phone call.
And the conversation that followed put all of her worries at ease.
"He spent over an hour talking to me," Marsha said of her financial advisor, First Community Trust's Jim Liddle. "Jim didn't tell me what to do, but with his advisement, I made a sound decision on what to do the next day. When I got done talking to him, I felt like a burden had literally come off my shoulders. I'll never forget that."
The Stewarts, longtime Dupaco members, first turned to FCT in 2015, when they were looking for a new financial advisor. Dupaco partners with FCT to bring members a full line of trust, investment, retirement and wealth-management services.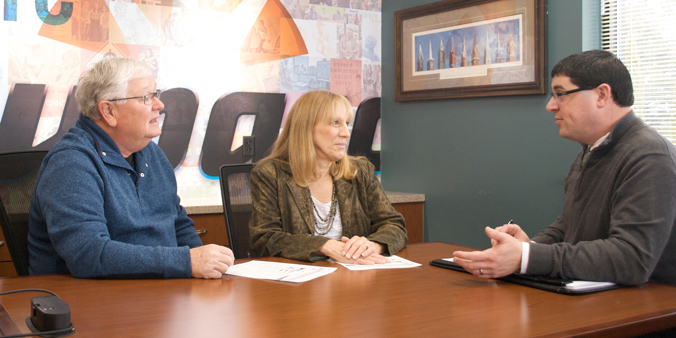 The Stewarts immediately felt comfortable with Liddle and have put their trust in him ever since.
"We never feel like we're taking up his time. He's very dedicated and knowledgeable, and we can rely on him to help us make the right decisions," Marsha said.
Dupaco's partnership with FCT is one more way the Stewarts feel their financial cooperative working for them.
Marsha said she appreciates Dupaco's helpful staff, services like Shine Online Banking and programs like Thank Use, which encourage them to strive to be proactive and save more.
"I've always been pleased to be part of a credit union," Marsha said. "They are geared toward the individual, and you can feel that."