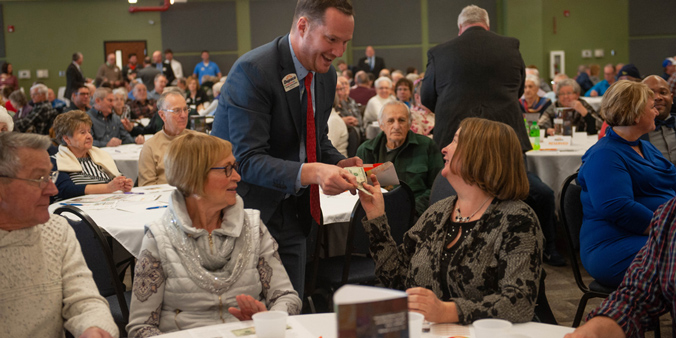 Dupaco board member Andy Schroeder hands out prizes to attendees at the 70th Annual Meeting of the Membership on Feb. 24 at the Peosta (Iowa) Community Centre. (M. Jungers/Dupaco photo)
How to participate in 71st annual meeting
PEOSTA, Iowa—Calling all Dupaco members! You're invited to the credit union's 71st annual meeting.
The meeting begins at 1 p.m. Sunday, March 1, at the Peosta Community Centre in Peosta and will be followed by refreshments, music and a sandwich luncheon. Door prizes also will be awarded.
Board elections
Dupaco is a nonprofit credit union that's owned by its members. That means you control your money and reap the benefits.
The annual meeting is the official forum for Dupaco board elections. And each member gets one vote.
A call for board candidate applications was published in the Summer 2019 Owner's Manual newsletter and on Dupaco's website. After a thorough evaluation and interview process, the nominating committee will present these candidates:

Ms. Dolan is the Dubuque County Auditor. She joined the Dupaco Board of Directors in 1993, and is completing her ninth, three-year term. Ms. Dolan has served on numerous committees during her years with the board, including four years as board chair. She currently serves as Chair of the Personnel Committee and Chair of the Dupaco R.W. Hoefer Foundation. Denise also serves on the Audit, Marketing, and Political Action Advisory committees. Ms. Dolan is volunteer Treasurer of the Dubuque County Firefighters Association Capital Fund and is a graduate of Clarke University in Dubuque.

Mr. Schroeder is Vice President, Prenger Solutions Group in Dubuque. As a resident of Dubuque, he joined the Dupaco board in 2014 and currently serves as Vice Chair of the Board and Chair of the CUSO Board. Mr. Schroeder serves on the Credit/Delinquent Loan, Investment/ALM/ALCO and Salary Savings Plan Oversight committees. Mr. Schroeder's community involvement includes the Association of Fundraising Professionals of the Greater Tri-States, Carnegie Stout Public Library Foundation Board, Opening Doors, Holy Family Catholic Schools, Dubuque County Fair Association, and Holy Spirit Parish. He holds a Bachelor of Arts Degree in Communication and a Master of Business Administration, both from Clarke University.

Mr. Wethal is Vice President of Patient Care Services and Chief Nursing Officer for MercyOne Medical Center Dubuque. His medical supervisory experience includes work at hospitals in Greeley, Colorado and Davenport, Iowa. He joined the Dupaco Board of Directors in 2012 and currently is Chair of the Board and serves on the Political Action Advisory, Investment/ALM/ALCO and Personnel committees. In the community, Mr. Wethal serves on the boards of the Dubuque Museum of Art and the American Heart Association. He was selected as a 2011 Tri-state Business Times Rising Star. He holds a Bachelor of Science in Nursing Degree from Clarke University in Dubuque, and a Masters in Health Care Administration from Des Moines University.
How to attend
State regulations require members to vote by paper ballot for credit union board elections. Registration forms and paper ballots will be available at the meeting.
Tickets for the meal are $1 per member and must be purchased in advance at any credit union location.
Can't attend? Follow @Dupaco on Twitter for live updates.
*Incumbents.