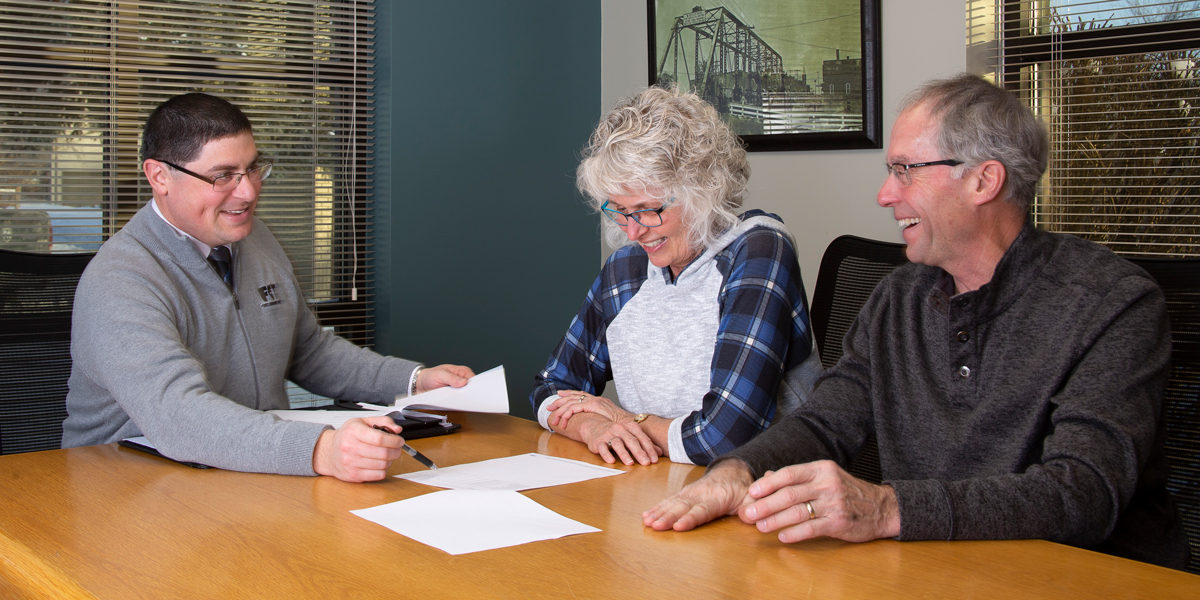 First Community Trust's Jim Liddle (left) visits with Dupaco members Karm and Jeff Williams, of Delhi, Iowa, at the Dupaco branch in Dyersville, Iowa. The couple turns to Liddle for guidance with their investment and retirement accounts at FCT. (S. Gassman photo)
It's a new year: Resolve to review your estate plan
By Jim Liddle
Vice president
Some suggest reviewing your estate plan every four or five years and upon major life events, such as the birth of a child or grandchild, death of a loved one, marriage or divorce.
Estate planning is all about:
Communicating your wishes
Maximizing what goes to your heirs
Minimizing taxes and fees
Resolve to review your estate plan this year to ensure your wishes are carried out.
Your estate plan review
Beneficiary designations
For your retirement accounts (IRA, 401(k), 403(b), annuities and life insurance contracts), ensure the designations match your intentions. Beneficiary designations dictate how those assets are distributed—no matter what your will or trust states.
Charitable planning
If you intend to leave any assets to a charity upon your passing, there might be tax-efficient ways to do so.
Roth conversion planning
Depending on many factors, you might elect to do some Roth IRA planning to maximize what goes to the next generation and minimize the total tax burden.
Investment planning
Do your investments reflect your legacy goals? Some invest with a goal to maximize what will be there for their heirs, while others are more concerned with principal preservation. Are your goals reflected in your investments?
Estate-planning document
Determine whether a will or trust is the appropriate estate-planning vehicle for you to minimize fees upon your passing. Understanding the pros and cons of each will allow you to make an informed decision.
Did you know?
Dupaco partners with First Community Trust to provide members estate, retirement and investment planning services. A meeting with a Dupaco trust officer is included with your membership—at no cost to you.
For a no-obligation consultation, contact First Community Trust at (563) 690-0029 or (319) 859-3461.