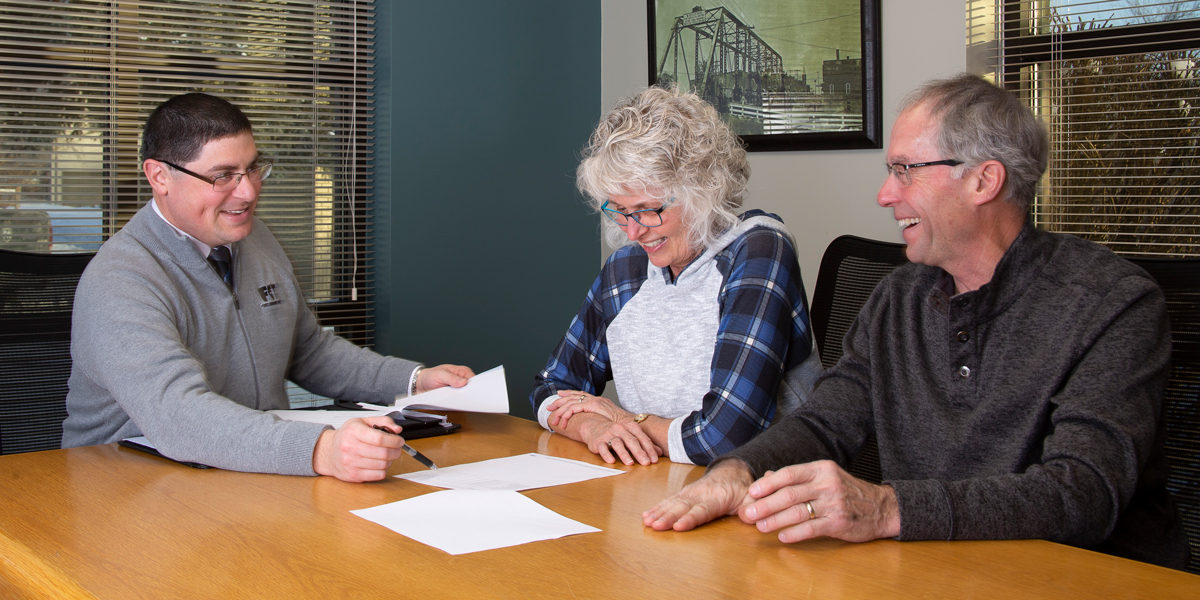 First Community Trust's Jim Liddle (left) visits with Dupaco members Karm and Jeff Williams, of Delhi, Iowa, at the Dupaco branch in Dyersville, Iowa. The couple turns to Liddle for guidance with their investment and retirement accounts at FCT. (S. Gassman photo)
How much money do you need to retire?
What does your dream retirement look like? Maybe you want to travel the world, spend more time with family or rediscover a long-abandoned hobby. Whether retirement is fast approaching or eons away, you've likely wondered: How much money do I need to retire?
The short answer … it depends.
Many financial planners say you should expect to replace about 70-80% of your pre-retirement income, saving at least $1 million.
That estimate climbs if you ask the average American.
A new survey from Charles Schwab found that workers believe they need $1.7 million to live comfortably in retirement, according to a recent CNBC story. The survey looked at 1,000 participants in 401(k) plans nationwide.
But retirement planning isn't one-size-fits-all.
Try our calculator to see how much you should save for retirement
How much money do you need to retire?
Understanding your retirement goals and budget can help you better understand what it takes to attain your dream retirement.
Start by asking yourself a few key questions about your expectations during retirement, said Jim Liddle, vice president, trust officer at First Community Trust.
What do you want out of retirement?
Visualize your ideal retirement long before you get there.
You'll have more time to do the things that matter most to you. How will you fill your days? Will you have to pay money to pursue those passions?
"No matter your personality, studies have shown that retirees who keep a busy schedule with three to four regular activities and who maintain their relationships and social interaction tend to lead happier retirements," according to The Balance.
Knowing how you want to spend your time—and understanding the costs associated with that lifestyle—will help shape your retirement budget.
"Once you estimate your spending, then you can start to determine how much you may need," Liddle said.

What income will you have?
What sources of income do you plan to have in retirement?
Here are a few avenues to consider:
Will you have a pension?
Do you anticipate having rental income?
Will you work a part-time job to generate extra funds?
What portion of your expenses will Social Security cover? This Social Security Administration calculator estimates your monthly benefits based on your Social Security earnings record.
"These sources of income will offset what's needed from an investment nest egg," Liddle said.
What's your risk tolerance?
The amount of money you need in retirement also depends on your investment risk tolerance.
How do you handle swings in the value of your investments? Are you willing to take on risk, or does the idea of volatility make your stomach turn?
"Some people are reluctant to own stocks in retirement," Liddle said. "If that's the case, you may need to have more saved than someone who is comfortable with more risk during retirement."

Other retirement costs
You'll likely face other expenses during retirement.
"Some expenses have caught members off guard," Liddle said.
Here are a few other costs to keep on your radar:
Health care
Health care costs can be eye opening. Especially in retirement.
While Medicare can reduce your expenses dramatically, you might still encounter costs that aren't covered.
Unless you're covered by an employer's plan during retirement, consider looking into the cost of a Medicare Supplement and Prescription Drug plan appropriate for you, Liddle said. Depending on your situation, you also might want dental coverage.
"It's worth time and planning to determine what costs you may incur to continue to have health insurance coverage that's appropriate for your situation," he said.
Vehicle
How often do you replace your vehicle? Will you continue that trend during retirement?
People hold onto their vehicles longer than they used to—the average auto age increased from 9.3 years in 2009 to 10.5 years in 2017, according to the U.S. Energy Information Administration.
Even so, it's likely you'll need a new vehicle at some point during retirement.
"Some neglect to plan to replace their vehicle," Liddle said. "It might be difficult to estimate the potential expense, but it should be part of your planning process."
It's also important to consider ongoing maintenance and insurance costs that come with any vehicle.
Use our auto calculators to estimate your potential costs
Home
Will you have a home loan during retirement?
Even if you plan to pay off your home loan before you retire, some homeownership costs are inevitable:
Property taxes
Homeowner's insurance
Maintenance
"If you've owned a home longer than 15 minutes, you know that unexpected repairs are a part of homeownership," Liddle said. "Like planning to replace your vehicle, these expenses may be difficult to estimate, but it's necessary to include them in your projected budget."
Spending money
The saying goes that "if you aren't making money, you're spending money."
It certainly applies to retirement, Liddle said.
"We have found that, especially in the first few years of retirement, spending on travel and gifts to loved ones may increase," he said. "Now that you have more time and ability to go, you may do just that, which may increase your spending."
As you estimate your retirement expenses to fit your ideal lifestyle, include room in your budget for spending money.
A final thought
"There is no magic number to determine what will be needed to retire comfortably," Liddle said. "But if you spend some time and effort, and work with a trusted financial professional, you can determine a plan that will allow you to retire the way you want."