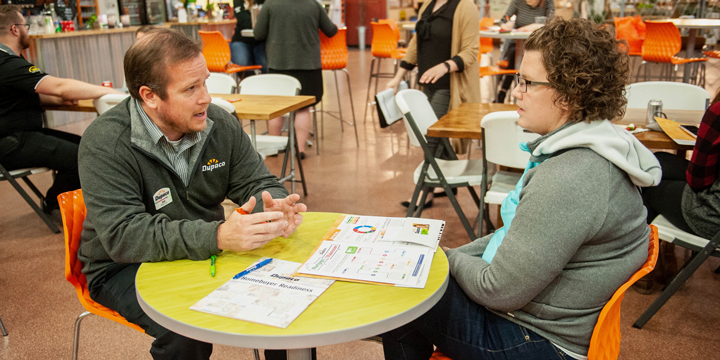 Dupaco's Joe Bisenius sits one-on-one with attendee Rebecca Boltz to answer questions following Dupaco's homebuying seminar Oct. 2 at NewBo City Market in Cedar Rapids, Iowa. (M. Jungers/Dupaco photo)
Upcoming Seminar: Learn the Ins and Outs of Buying a Home
Dupaco's Real Estate team is presenting this free homebuying seminar to help assess your readiness for homeownership and help guide the early stages of your homebuying process.
The homebuying seminar will be held at the following locations:
Dubuque
Wednesday, June 12 from 6:00 to 7:00 p.m.
Dupaco, located at 3999 Pennsylvania Ave.

Platteville
Monday, June 17 from 6:00 to 7:00 p.m.
Platteville Public Library, located at 225 W Main St.
"As a financial cooperative, it's our mission to improve each member's financial position," said Dupaco President and CEO Joe Hearn. "Buying a house will likely be the biggest purchase in a person's lifetime, and we want to do our best to educate consumers throughout this journey to help them stay on the right financial path."
Attendees will learn how to become an optimal mortgage candidate with Krystal Frederick, a mortgage lending consultant at Dupaco, who will help you understand:
The housing and mortgage markets
Your buying power and how much home you can afford
How to take control of your debt
How to put a savings plan in place
The homebuying process and where you stand in it
Following the seminar, participants will have an opportunity to talk one-on-one with Dupaco's Real Estate team.