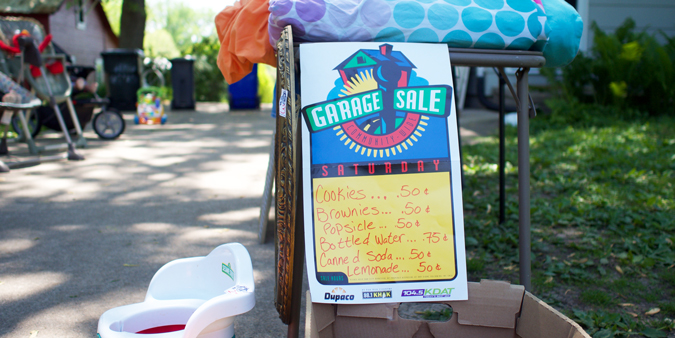 As a credit union, we promote thrift. And that's exactly what makes sponsoring community-wide garage sales a perfect fit for Dupaco! Host a garage sale and we'll promote your sale for free! (B. Kaplan photo)
How a garage sale can help you spark joy for others
Inspired to keep only the things that "spark joy," people across the country are feverishly decluttering and organizing their homes—thanks to the new Netflix series, "Tidying Up With Marie Kondo."
Thrift stores from California to Florida have reported a surge in donations, attributing the influx to the "Marie Kondo effect."
The organizing consultant and "Tidying Up" host encourages you to go through your belongings one category at a time, keeping only the items you're truly passionate about and expressing gratitude before parting with the rest. Kondo recommends tidying in this order:
Clothes
Books
Papers
Miscellaneous
Mementos
MORE: Learn six ways to start purging the paper clutter in your home.
But just because something doesn't "spark joy" for you doesn't mean it won't for someone else. If the Netflix show or social media posts about your friends' tidying efforts have swayed you to join the craze, think about how you'll part with the things that no longer "spark joy" for you.
Hoping to earn some green for your tidying efforts? Dupaco Community Credit Union's Community-Wide Garage Sales are coming to a community near you:
Dubuque, Iowa: Saturday, April 27
Manchester, Iowa: Saturday, April 27
Platteville, Wis.: Saturday, May 11
Cedar Rapids, Iowa: Saturday, May 11
Cedar Falls/Waterloo, Iowa: Saturday, June 1
Carroll, Iowa: Saturday, June 22
By registering your sale on Dupaco's website, you gain access to free publicity online and in a printed directory, along with the option to pick up a free sale kit with price stickers, signage, balloons and more.
MORE: Learn how to throw a successful garage sale.
Through the tidying process, Kondo says participants can restore balance among themselves, their possessions and the home they live in.