How to get out of debt: a couple's journey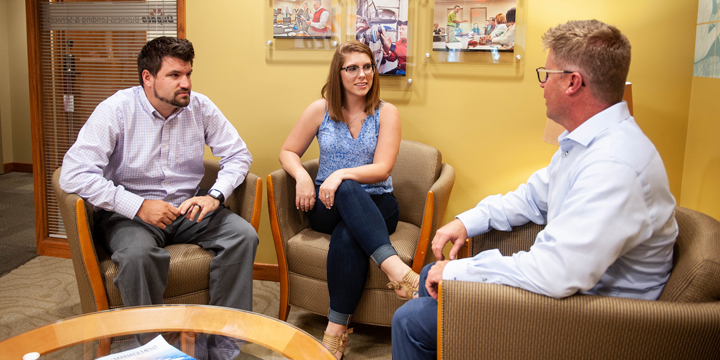 The story of a Dupaco staffer and his wife

Dupaco Community Credit Union's BJ Duehr is in the business of helping members. Now he's giving his own finances a makeover.
It was during a meeting with his financial advisor when BJ Duehr broke down.
He told Dupaco Financial Services' Cole Schmelzer that his student loans were killing him, and he and his girlfriend, Madison, weren't saving enough.
Around that time, BJ also was reading a couple of money-related books for his role as a relationship development specialist at Dupaco Community Credit Union—"Rich Dad, Poor Dad" and "The Total Money Makeover."
"Reading both of those books and talking to Cole helped me realize that Maddie and I were living paycheck to paycheck," BJ said. "We were part of the majority of Americans where, if something happened, we didn't have a plan and would be in big trouble."
When BJ crunched the numbers in May 2017, he was disheartened to realize they had about $75,000 worth of debt, including car, student and personal loans. Each month, they were putting about $2,000 toward those loans, leaving no wiggle room in their budget.
"I had graduated from college and had a good-paying job and felt like I shouldn't still be broke," BJ said. "I felt like my debt was holding us back in our relationship. We both love to travel, and we couldn't travel as much because we had these monthly payments."
Something had to give.
That's when BJ came up with an ambitious plan to eliminate their debt over the next four years. Madison had her doubts, but she was willing to give his crazy plan a try.
How they paid off nearly $27,000 in the first 15 months
"Live like no one else, so you can live like no one else." It's a line from "The Total Money Makeover," and it's stayed with BJ ever since he read the book.
He proposed that he and Madison live just like that.
Instead of continuing to pay rent to live with their friend, BJ suggested that he and Madison move in with his parents for a year, so they could live rent-free and put their paychecks toward their debt. BJ's parents, who aren't "cat people," had to warm up to the idea of letting Madison's cat make the move, too.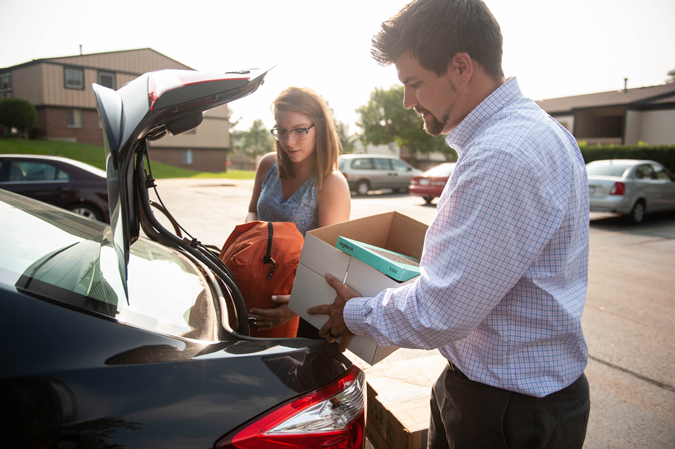 "I wasn't as open to the idea of moving in with his parents as he was, but it has been fine," Madison said.
To pay off the loans even faster, BJ and Madison took on more jobs. BJ took on a part-time job cleaning Dupaco branches, while Madison has worked anywhere from two to three jobs at a time during the past year.
Being a numbers guy, BJ regularly looks at their loan balances and interest rates, and he has planned some strategic debt consolidation along the way.
When they paid off BJ's car loan, they used his car title to refinance his student loans, reducing his interest rate from more than 10 percent to 3.69 percent and shortening the life of the loan by a few years.
To stay on track, BJ has "a budget for the budget."
"I call it my bible, and Maddie makes fun of me for it," BJ said. "But it's our plan, and we stick to it."
Every dollar they bring in has a home. They use several Dupaco checking and savings accounts, both joint and individual, at the credit union. They're big fans of Dupaco's automatic transfers—BJ's money automatically transfers to seven accounts, and Madison's goes to six other accounts when they get paid. It helps them budget to pay bills, pay down debt and build their savings.
"We still travel, and we eat out when we want. But it's part of the budget now," BJ said. "We have a set amount we can spend on frivolous things, but the majority has to go toward debt, savings or investments."
MORE: Learn how a zero-sum budget can help you save more.
BJ's checking account is set up to automatically transfer half of any remaining balance the day before payday to go toward his car loan. Madison puts her leftover money into a savings account for fun and travel down the road.
"Going into a relationship with BJ, I knew I would have to do better with my spending. I wasn't that good," Madison said. "It's not as hard as people think it is to really, truly budget. It's nice to know your money is going to something purposeful."
It hasn't been without its challenges, though.
Last year, Madison's car was totaled. But because a new car wasn't in the budget at the time, BJ made a case to hold off on buying a second vehicle for a few months. He suggested that Madison drive his car to work, while he walked to his job.
"I was so mad at him for not letting me get another car right away," Madison said. "But I didn't need to yell at him. He let me get my new car when it was the financially smart time, and it worked out in the end."
Fast-forward to today, and the couple has paid off about $26,700 worth of their debt over the past 15 months. During that time, they even got married—and were able to do so without borrowing a dime. BJ anticipates they will have their debt paid in full in about three more years.
"It's opening up possibilities to do whatever we want," BJ said. "Now we live paycheck to paycheck because we want to, not because we have to, and that's a much better feeling."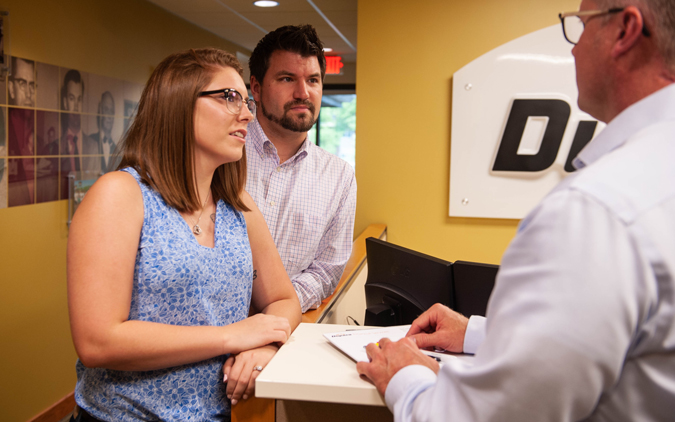 What's next with their debt journey
The couple recently fulfilled a dream of theirs to move to Texas to live closer to friends, continuing to work remotely for their Dubuque employers.
They're back to paying rent, but BJ is hopeful that they'll have his refinanced student loan paid off in the next year so they can buy their first house together. They've already been saving for their down payment with a Dupaco term-share certificate.
MORE: Learn how you can save with certificates.
BJ and Madison said their debt-reduction journey—and being honest with each other about their finances—has made them stronger as a couple.
"Doing this just reaffirmed for me that this is the person I wanted to marry, that I was willing to spend the rest of my life with," BJ said.
What this journey has taught them—and what it can teach you
Their journey has been full of teachable moments, and they hope you can learn from their experience, too.
It starts within yourself. BJ wouldn't recommend their aggressive plan to others. But even sticking to smaller goals of debt reduction won't happen unless you want it to. "It sounds cliché, but anything is possible when you put your mind to it," he said.
Have a plan. Maybe don't keep a budget for your budget, but create a budget that works for you, and stick to it. Revisit it any time your goals or financial situation changes.
MORE: Need budgeting help? A free Dupaco Money Makeover can help!
It won't happen overnight. BJ is fond of telling Dupaco members, "You did not accumulate this debt overnight, and you're not going to pay it off overnight." He and Madison are about one-third of the way finished paying off their debt. It started with the first loan, then the second and so on. "Know that every little bit adds up over time," BJ said.
You don't have to spend all your money to enjoy life. "There are so many other things you can do with your money that will benefit your lives years from now," Madison said. "Before we started this journey, I would have never thought to put my money in an investment account. I'm only 22 years old, and it's a good feeling to know that because of everything we've been doing, I'm on a really good track."
Reward yourself along the way. Even if you've got an ambitious goal to save or pay off debt, leave yourself some fun money, too. "It would be harder if we didn't allow ourselves to have some fun, too," Madison said.
Be patient with yourself. Working multiple jobs or having less discretionary spending can feel discouraging at times, but remind yourself that it won't be like this forever, Madison encouraged. "If it was easy, everybody would be doing it," BJ agreed. Even so, Madison is grateful for their financial journey together. "I don't think there's anything I would have done differently," she said.