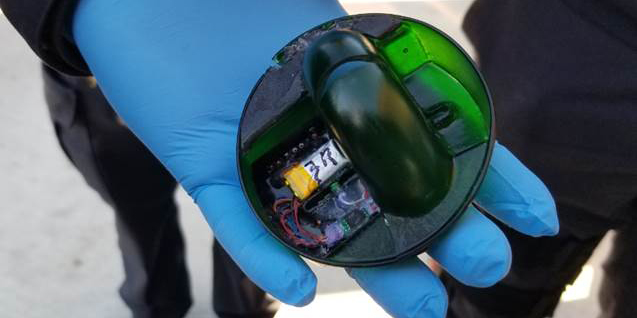 An example of the reverse side of an ATM card skimming device.
How to spot a card skimmer
Updated Nov. 11, 2019
If you withdraw money from an ATM or pay at the pump for gas, you're at risk of a common type of fraud known as skimming.
What is a card skimmer?
A card skimming device is a piece of equipment fraudsters attach over card readers at ATMs or self-service payment kiosks at gas pumps, parking garages and elsewhere. Skimmers can also be installed inside the gas pump.
During the legitimate transaction, a card passes through the skimming device that illegally captures the card number. Criminals may also install a camera nearby to simultaneously record the cardholder's PIN as it's entered. Thieves then retrieve the card skimmer and the stolen card information.
Related: Keep tabs on your credit card activity helps you catch errors and unwanted transactions early

How to spot a card skimmer
Before you insert a card into any ATM or self-service payment kiosk, look at the plastic surrounding the card reader. It should look permanent and professional and all pieces should be securely affixed to the machine, not loose. You should NEVER be able to remove any cover that's on the card reader.
Be alert for any pieces attached to the machine that look out of place or as if they are not part of the originally manufactured machine.
If you are at a gas pump, the security seal tape on the fuel dispenser door should NOT be broken. If there is no tape, check to see if the dispenser door looks as if it's been forced open.
Follow these simple steps to catch identity theft early
Monitor your credit report
Through Bright Track inside Shine Online Banking, you can access your full credit report and your credit score as often as you wish. Access to Bright Track is a free benefit of Dupaco membership. Regularly monitor your credit report to keep an eye out for any fraudulent activity. Dupaco advises reviewing your credit report every month.
Monitor your accounts regularly
Monitor your transactions every day using Dupaco's free eNotifiers to alert you by text and/or email of activity on your accounts. If there has been fraudulent activity, you'll be the first to know.
MORE: How to set up Dupaco's eNotifier alerts
Consider purchasing Family ID Restoration coverage
Dupaco partnered with Deluxe to offer its members Family ID Restoration coverage, which gives members additional resources to help detect and respond to identity theft and fraud.
MORE: Get started with Dupaco's Family ID Restoration coverage
Quickly disable your Dupaco cards in Shine
Easily prevent unauthorized use of your Dupaco debit and/or credit card using our new Card Security option. This feature enables you to quickly disable your Dupaco debit and/or credit card from your device. Once disabled, your card will remain unusable until you reactivate it again. You can access this feature via the Account Safety tab located on your Accounts menu.