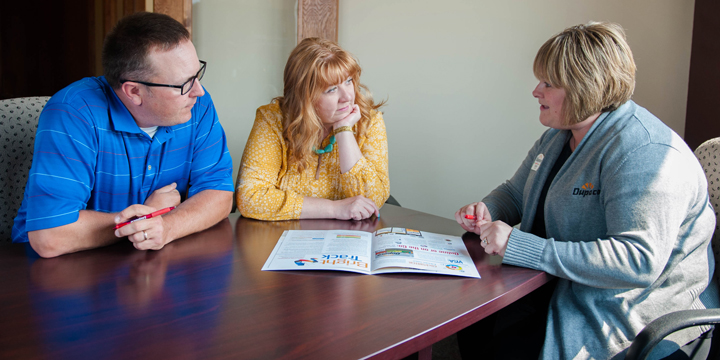 Worried you're not ready to retire?
"For those members who are close to retirement, there may be fear that they may not have enough saved or they may need to change their standard of living," says Jim Liddle, vice president, trust officer at First Community Trust.
If you're closing in on retirement and wondering whether you've saved enough, you might find peace of mind following these strategies:
Look at the numbers.
Review your nest-egg assets, sources of fixed income (including Social Security, pension income and wages if you plan to work part-time in retirement) and projected expenses in retirement. "This is a great way to understand how much a member may be spending, what portion of that is covered with fixed income and what distributions, if any, from the nest egg will be required to maintain the planned standard of living," Liddle says.
Use our resources to help guide you on the road towards a worry-free retirement.
Know what you need.
With that information, you can project what will be needed on an annual basis from your retirement savings so you can determine the necessary size of your nest egg.
Ask for help.
If you'd like to boost your retirement savings, consider working with Dupaco Community Credit Union or First Community Trust to determine what types of retirement accounts might be beneficial to utilize. "If the member would like to boost his or her nest egg, we may first recommend taking full advantage of the employer-offered plan," Liddle says.
Cut expenses.
If additional saving is not an option, look at your expenses—either current expenses or those projected in retirement—to determine what can be trimmed. A free Dupaco Money Makeover is a good place to start. "If money is freed up, boosting retirement savings will be a great way to solidify a member's ability to retire the way he or she wants to," Liddle says.
This article is part of a three-part series on common financial worries for those who are retired, or are nearing retirement.