Dupaco's outreach efforts empowering families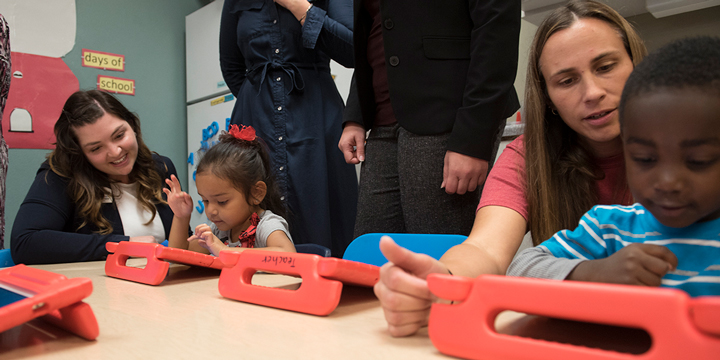 Dupaco's Mackenzie Damm (left) watches as children play with their new tablets. The tablets were provided through a partnership between the Tri-County Child and Family Development Council Inc., Dupaco and the Dupaco R.W. Hoefer Foundation on Sept. 29, 2017, in Waterloo, Iowa. (D. Klavitter/Dupaco photo)
---
Waterloo, Iowa—John Berry is fond of sharing this quote: "Don't be pushed by your problems. Be led by your dreams."
The message has long spoken to Berry.
He leads an organization that works with Cedar Valley-area families to prepare the next generation for successful education experiences.
"Look at your challenges as an opportunity to show what you can do," said Berry, chief executive officer of Tri-County Child and Family Development Council Inc. in Waterloo.
When it comes to helping families achieve their dreams—and break generational poverty—financial literacy is key, Berry said.
Thanks to a partnership with Dupaco Community Credit Union's outreach and education team, more Tri-County families have opportunities to break away from a paycheck-to-paycheck cycle. The families learn about thrift, budgeting, saving, credit history and goal setting.
During the past year, Dupaco has provided on-site financial education to Tri-County children, their parents and even the organization's employees. Parents are opening savings accounts and beginning to build their credit scores for brighter financial futures.
"We're bringing the credit union philosophy of people helping people into the community," said Dupaco's Deb Schroeder, vice president of community outreach and education.
Berry said the partnership has been a "marriage made in heaven."
"It would be a privilege and honor for every parent we serve to leave here with a savings account," he said. "If we can do that, we will have done them a great deal of justice."