Credit Union Membership Saved Her $20K
During a workplace education event in Anamosa, Iowa earlier this year, Dupaco helped Linda Jackson realize a savings of more than $20,000 by joining the credit union and refinancing her high-interest debt. This helped ensure Linda could keep her home after the death of her husband, Tom, last year.
Stories like Linda's are proof-positive that Iowans need credit unions more than ever before. This is especially true in rural communities, where costs of living continue to rise, while populations and access to essential services — such as financial, education and health care — continues to dwindle.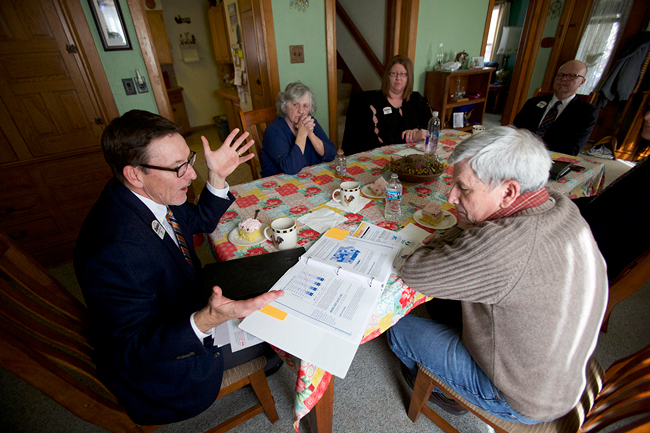 On March 16 at member Linda Jackson's home in Morley, Iowa, Dupaco CEO Joe Hearn explains to State Rep. Andy McKean a United Way study that found 381,266 Iowa households—31 percent—struggle to afford basic household necessities. Many of these households are in rural communities. Now more than ever, people need the benefit of credit unions like Dupaco. Clockwise from left: Dupaco CEO Joe Hearn, Dupaco member Linda Jackson, Dupaco representative Jacki Clasen; Dupaco Chief Marketing Officer David Klavitter; Dupaco Education and Outreach Representative Melissa King; and Iowa State Rep. Andy McKean. (M. Burley photo)
---

The credit union difference…
Credit unions are member-owned cooperatives. They provide access to affordable credit and ample opportunities for members — like Linda Jackson — to improve their economic and social well-beings, all while keeping money in their local communities.
In fact, Iowa credit unions return more than $100 million dollars annually to members through better rates and fewer fees compared to what they would have paid for similar services at a bank. And 40-percent of Iowa credit union loans are made to members with below average credit scores.
Banks, on the other hand, operate according to business models that empower them to cherry-pick profitable commercial loans and borrowers with pristine credit scores — all for the purpose of maximizing profits for their stockholders.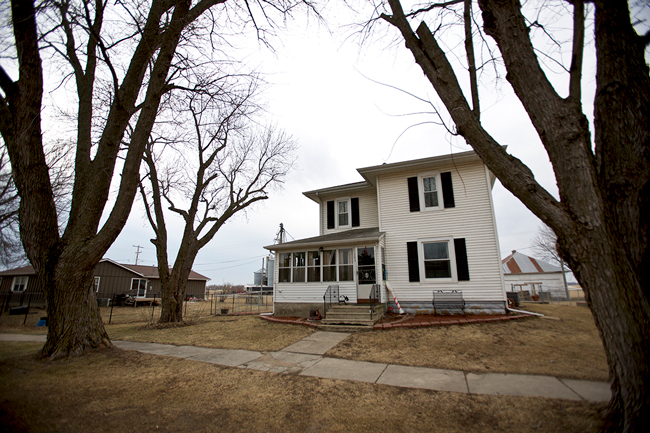 Because of Dupaco, Linda Jackson was able to keep her home in Morley, Iowa. The town is eight miles south of Anamosa, Iowa, and its current population is 112. (M. Burley photo)
Credit unions under threat…
Tax legislation currently being championed by Iowa banks would raise taxes on credit unions by 35-percent. That same legislation also proposes a substantial cut in the taxes paid by banks.
The banks argue that credit unions aren't paying their fair share. But that's just not accurate. Iowa credit unions pay property, sales and payroll taxes — plus a money and credits tax on reserves which banks aren't required to pay.
Moreover, banks continually fail to acknowledge that credit unions are taxed differently than banks because credit unions are different: different purpose, different structure. More tax on credit unions really is more tax on credit union members. That's because the money credit unions pay in taxes comes directly from member benefits.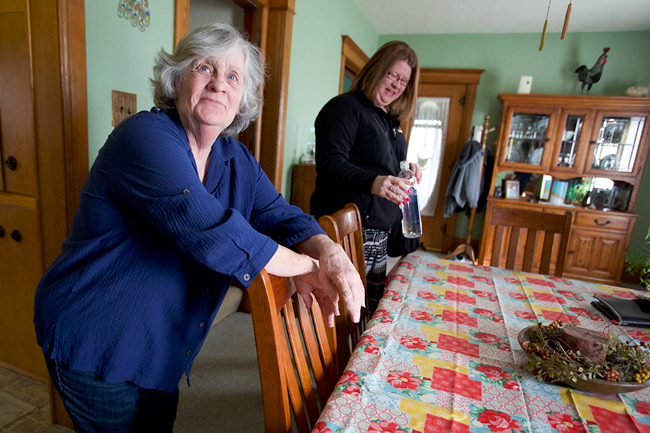 Dupaco member Linda Jackson with Dupaco representative Jacki Clasen during a visit to Linda's Morley, Iowa home on March 16. During an on-site education event in Anamosa, Iowa earlier this year, Dupaco helped Linda Jackson realize a savings of $20,000. This helped ensure she is able to keep her home after the death of her partner, Tom, last year. (M. Burley photo)