4 first-time homebuyer grants and programs available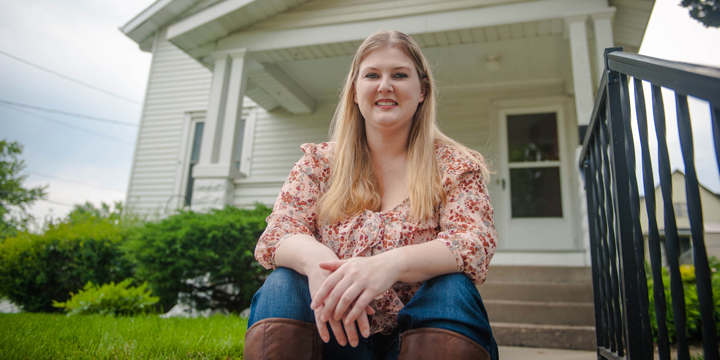 Dupaco Community Credit Union is in the business of improving its members' financial positions. And assets, such as a home, are key to moving toward financial stability.
That's why Dupaco makes it a priority to educate homebuyers every step of the way—and offers grants and programs to first-time homebuyers to help make the homeownership dream a reality.
"Buying a house is likely the biggest purchase most people will make, and saving for a down payment can be challenging for many," says Michelle Becwar, lead education impact architect. "Through our grants and programs, we are able to help members save for their first home."
Dupaco experts help first-time homebuyers determine whether they qualify for a grant to assist with a down payment or closing costs, says Krystal Frederick, mortgage lending consultant supervisor.
"These programs can help members get into a home a little bit faster," she says.
Here's a look at four grants and programs available to first-time homebuyers:

MoneyMatch Accounts
Dupaco's MoneyMatch is a matched savings account designed to encourage lower-income individuals and families to save for specific wealth-building assets, including a home, and build toward financial stability. The savings of a participant are matched dollar-for-dollar up to $2,000 from the Dupaco R.W. Hoefer Foundation.

Iowa's First-Time Homebuyer Savings Account
Iowa residents can open a designated First-Time Homebuyer Savings Account at Dupaco to save for a home purchase. Eligible participants may claim a tax deduction for the amount deposited up to $2,000 per year for an individual or $4,000 per year for a married couple filing jointly in the state of Iowa. Interest earned on the account is not taxable.
Federal Home Loan Bank Grant
Eligible first-time homebuyers may receive up to $5,000 through the Federal Home Loan Bank Grant Program to provide down payment and closing cost assistance. Funds are available to members on a first-come, first-served basis, and are subject to availability. "Last year, we went through $250,000 in two months with this program," Frederick says.
Dupaco R.W. Hoefer Foundation First-Time Homebuyer Grant
Those eligible for the Dupaco R.W. Hoefer First-Time Homebuyer Grant may receive $1,000 in closing cost assistance. It cannot be used in conjunction with the Federal Home Loan Bank Grant. "People who don't typically qualify for grants are qualifying because we have this option available," Frederick says. "They can't get this grant anywhere else."