You just wrote your will. Now what?
Creating a will or trust is important. But the estate-planning document is really just the first step in communicating your intentions to your intended heirs, says Jim Liddle, vice president, trust officer at First Community Trust.
"One of the purposes of estate planning is to communicate our wishes to those who come after us," Liddle says. "The estate-planning work should not stop after the documents are signed."
Once a will or trust is drafted, following through with these next steps can be invaluable to your loved ones:
Communicate with your executor or successor trustee. Provide a copy of your will or trust to your executor or successor trustee, or at least let them know where the original copy is located.
"The communication needs to occur with the person or entity in charge of your affairs so there is not a prolonged search for your estate-planning document," Liddle says.

Communicate with your medical providers. Provide a copy of your Living Will or Healthcare Power of Attorney to your doctors and local hospital. Similar to your will or trust, you should communicate with your power of attorney where your document is located in the event medical care is needed while you are out of town.
Designate recipients of your personal property. Most wills and trusts reference a separate list of personal property. This gives you the ability to list any personal items you would like to pass to specific heirs. The list doesn't need to be notarized—just signed and dated by you, Liddle says.
"This oftentimes is not completed, and it is left up to your heirs who gets what," Liddle says. "Taking time to complete this list will save your executor or successor trustee and all of your heirs time and relive stress."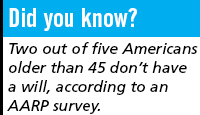 Ensure your assets are in the name of your trust. If you and your attorney determined that a trust is appropriate, your assets must be in the name of your trust to avoid probate at the time of passing.
"Generally speaking, your attorney may assist in moving real estate," Liddle says. "But when it comes to other assets, including accounts at the credit union, the onerous is on you to work with the financial institution to re-title the assets into the name of your trust."
Talk about your estate with the next generation. While it is often difficult to speak about these matters, it is an important step in the process—allowing your heirs to understand your intent and point of view, Liddle says. This discussion might also include plans you have made for your burial plot or other funeral arrangements.
"This way, you will avoid hard feelings and delays at the time of your passing," Liddle says.
Create a list of your assets. This will provide your executor or successor trustee a road map when determining the components of your estate or trust. Your list should include:
Financial institution assets (savings, checking, money market, CDs, safe deposit boxes)
IRAs
401(k) assets
Annuities
Any other items of note (valuable collections)
"Without this information, your heirs will be faced with a long and arduous process to determine where the assets are," Liddle says. "If you do not feel comfortable sharing this with your heirs during your lifetime, letting your executor or successor trustee know where this list can be found upon your passing will be a huge help."
Dupaco partners with First Community Trust to bring members a full line of trust, investment, retirement and wealth-management services.